A special thank you to the organisers at Belfast Design Week for supplying us with their rundown of this year's events. For some behind-the-scenes insights, please be sure to read the article by the festival's Co-Founder Karishma Kusurkar that was recently part of our In The Making series.
–––
Now in its sixth year, Belfast Design Week will return this November with a safe and socially distant programme for designers and design enthusiasts alike. In addition to the Belfast Popup Design Museum, the festival will continue to run a week-long programme of online events from Monday 02 – Sunday 8 November. The 2020 festival's theme is 'Environment' and will showcase thriving creative and innovation sectors with a vibrant schedule filled with online talks, workshops, podcasts, videos, articles and much more.
The full festival will be supported by a host of businesses and organisations including Northern Ireland Screen, The Graduate School at Queens, Big Motive, Fathom and Ethos Design & Architecture
Online events set to take place include Innovation After Hours with Maven Furniture and Homeware, Creative Mornings and The Future Sailortown Online Symposium. There will be design challenges, video workshops and a design podcast created in partnership with Turf & Grain to accompany the festival.
For further information on the Belfast Design Week programme and to book tickets visit www.belfastdesignweek.com.
–––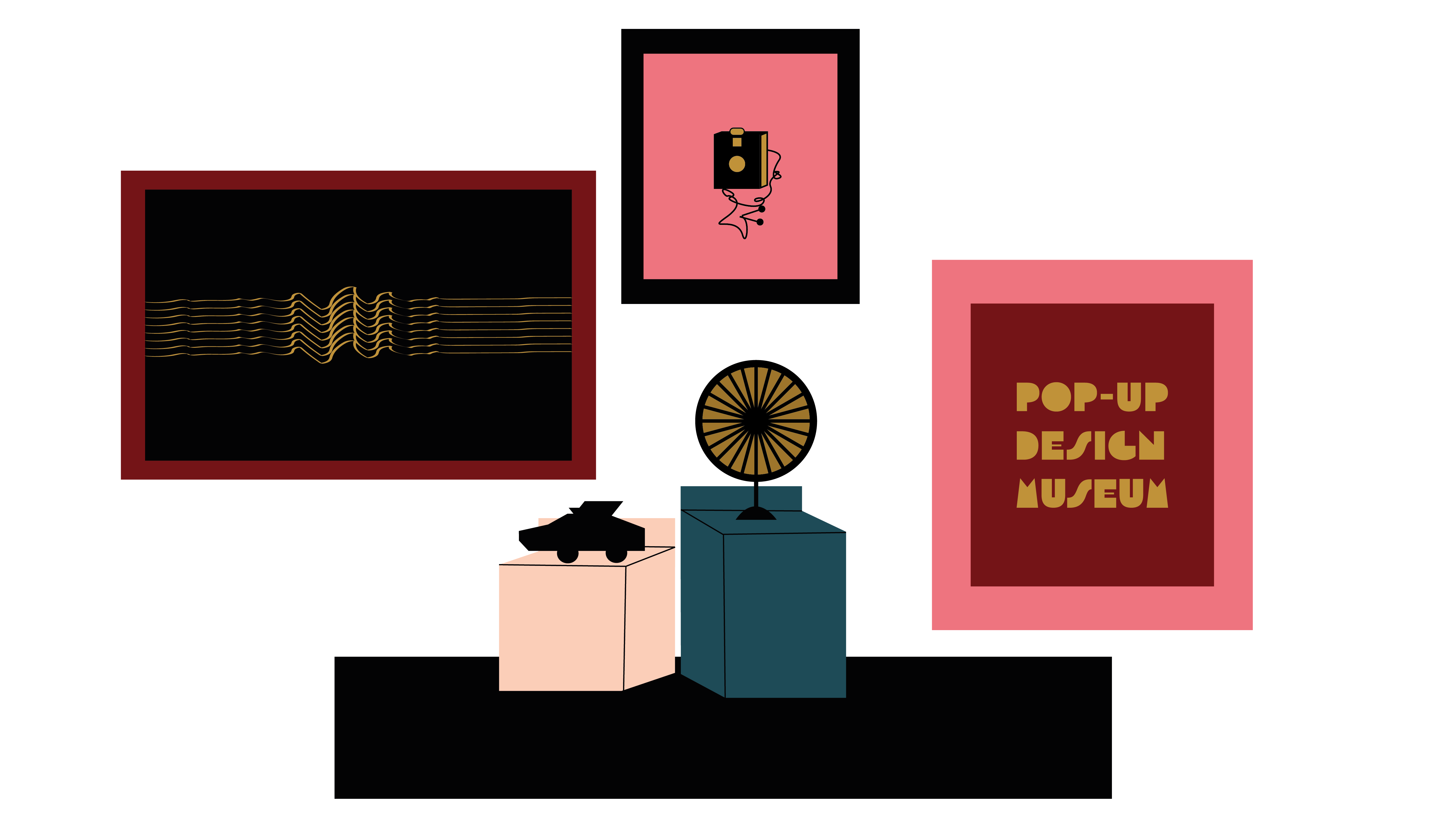 BDW POPUP MUSEUM (In person & Online)
Back for a second year 'Belfast Popup Design Museum' is popping up in Belfast from 2nd – 8th November as part of this year's Belfast Design Week. The Belfast Design Popup Museum will see interactive design-focussed exhibits taking place in the windows of local, independent and arts and culture venues across the city centre.
–––
Tuesday 3rd November
UX Design & its impact on sustainability
9.00am – 10.00am
When designing digital products, there is a responsibility to create experiences that have sustainability baked in to the design process, and where applicable provide awareness, accessibility and encouragement to allow users to make smart, sustainable choices.
In this webinar, Fathom will discuss the importance of sustainability in the digital product design process and highlight some examples of sustainable UX in practice across a variety of contexts.
...
Portfolio: UX
11.00 – 12.00pm
In our UX Design event, we will be joined by Jim Morrison from Fathom. If you are a UX Designer, want to get into a career in UX Design or even feedback on end user within your projects, this is the one for you!
Jim has worked for over 15 years in information management, digital service delivery, marketing and business consultancy. He has a degree in Interaction Design and has developed user experiences for numerous brands in web, graphic and product–design projects. Jim also lectures in Creative and Interactive Media at Northern Regional College.
In his spare time, Jim is a published children's author and enjoys dabbling in creative mediums including producing electronic music, painting and developing VR/AR technologies.
...
Makematic Design Sprint (for 16 – 18 year olds)
4.00 – 5.00pm
Have you ever wondered how media companies develop visual and content ideas for videos?
This 2-hour design sprint will ask 16 – 18 year olds to bring their A-game. They'll be working with a team from Makematic to develop ideas for a series for 16 – 18 year olds. Have you got what it takes?
–––
Wednesday 4th November
Pinned
Craft NI is delighted to host the first group exhibition from the Association for Contemporary Jewellers and Silversmiths NI (ACJNI). Pinned presents the work of 23 local jewellers and silversmiths who have each responded to the exhibition's theme to produce one-of-a-kind pieces beyond the scope of their usual commission or production work.
Participating makers include Anne Earls Boylan, Stuart Cairns, Robyn Galway and Celine Traynor and the exhibition features over 50 variations on the idea of a brooch, with versions in both precious and non-precious materials. Traditionally set stones contrast with re-purposed vintage tins and toys, precision geometry meets abstract forms. Gold, silver and gemstones sit alongside found objects in unexpected interpretations that demonstrate technical accomplishment, innovation and creativity.
...
PORTFOLIO Architecture
10.00 – 11.30am
We are delighted to have PORTFOLIO back in 2020 where you get the chance to share your work with industry leaders.
In our Architecture event, we will be joined by Studio IDIR's Katie Stringer and Aisling Rusk. Studio Idir is a design-led architecture practice that flourishes in the in-between.
Idir, the Irish word for in-between, reflects a philosophy of collaboration and celebrates the meeting of difference, such as old with new, inside without, contrasting materialities – always seeking out creative opportunity in the space between.
Studio Idir provides all stages of architectural design service, from feasibility, through planning and building control to construction and beyond.
They love working with clients to find design solutions to spatial problems and enjoy the challenge of working within tough constraints, like getting the most out of restricted space or sensitively adapting old or listed buildings.
...
Portfolio: Branding
3.30 – 5.00pm
Don't miss another chance to share your work with industry leaders!
In our Branding event, we will be led by Mammoth:
"At Mammoth we put your brand at the heart of everything we do.
We define values, personality traits and core brand themes that influence consumer perception and then we put them to work to drive sales in your marketplace.
We started Mammoth in 2001 with a simple compelling vision. Build an agency as strong in its strategic thinking as it is in its creativity. We collaborate with our clients to define your brand's differentiation and positioning and help create the architecture and strategies that form the core marketing themes that connect emotionally to your customers through your key communication channels."
...
Makematic: How To Design Your Instagram Feed to Educate Your Audience
3.30 – 4.00pm
With the current social discourse of the world, everything is changing, including Instagram, whether you know it or not. In this webinar led by Gianna Pornasdoro and Tasha Vinvent (who designs and manages social media for Makematic), we'll be discussing how you can design your Instagram feed to appeal to the post-millennial generation who strive to educate themselves during these times of change.
–––
Thursday 5th November
9ft in Common: Alley Walk (In Person)
12.00 – 1.00pm
9ft in Common is an investigation of Belfast's infrastructure of alleyways, Belfast's wild and liminal spaces led by Amberlea Neely (Starling Start) and Aisling Rusk (Studio Idir).
As part of our investigation, we invite you to join us on an exploratory walk through the alleys of the Ormeau Road around Deramore Avenue and surrounding streets. Starting at the Ormeau Parklet at 12pm, we will head off on an hour-long lunchtime walk along the back alleys, seeing what we find and where we end up, keeping off-street as much as possible, and finishing back to the Parklet approx.1 hour later. We will be asking — what have the alleys been used for in the past and now, especially this year during lockdown? What else could they be used for?
Do they provide opportunities for connection and play for local residents? Beyond that, could they offer an extension to Belfast's fragmented greenway and cycle lane infrastructure? What would make them more inviting? Come along and share alley stories with us!
Please adhere to current COVID 19 public health guidance. We encourage that you wear a face mask where social distancing cannot be maintained and please maintain 2m social distance as much as possible. Wear sensible shoes and bring a brolly.
...
Games Design
1.00 – 2.00pm
Game Design is one of the most important aspects of Game Development. Good design ensures your game is as fun and engaging as possible.
Game designers are often referred to as the architects of game creation and decide how the game works, how it should be played and what type of experience the player should have.
In this webinar led by Brian Coyle, Senior Lecturer on Games Design at the University of Ulster, we look over the key elements of games and the typical skills game designers should possess in order to create games that are fun, exciting and engaging.
...
Innovation After Hours with Maven Furniture & Homeware
6.00pm – 7.00pm
The Graduate School at Queen's will be running "Innovation After Hours" once again at BDW20.
Innovation After Hours is a chance to meet up with people who are interested in innovation and entrepreneurship and to be inspired by those who are working on interesting ventures.
November's guest speaker is Catherine McGinnis, co-founder and co-owner of Maven, Belfast. Maven is a furniture and homeware store founded and co-owned by sisters Catherine and Patricia McGinnis. With a belief that everyday items should be enhanced by great design and that shopping should be a friendly experience, Catherine and Patricia have built their business into what they describe as 'a treasure trove that will make your heart beat a little faster and offer you a truly warm welcome'.
Boasting a selection of largely Scandinavian and Irish products, Maven was established almost seven years ago and last year won Independent Retailer of the Year in the Image Interiors & Living Design Awards 2019. As the world moves into a new digital realm, Maven are almost ready to launch a huge new website, which will position them alongside some of their major retail competitors.
...
Design In Crisis: A panel discussion
6.00 – 7.30pm
Design in Crisis is a panel discussion hosted by Big Motive for Belfast Design Week 2020.
The panel, comprising of Rebecca Walsh (Big Motive), Sarah Allen (NICS Innovation Lab), Niall Cunningham (Civica) and Dan West (Department of Health NI), will discuss the role that design played in the development of COVIDCare NI – The Department of Health's digital response to delivering care to the citizens of Northern Ireland during the Pandemic.
Facilitated by Damian Cranney (Big Motive), this will be a unique recount of what happened back in March as a design team scrambled to respond to an unpredictable problem, a rapidly changing situation and one of the biggest health threats to face our population in recent history.
–––
Friday 6th November
Creative Mornings: Radical
08.30 – 10.00am
Creative Mornings Belfast will be hosting their next talk and meetup at BDW20 on the theme of "Radical" featuring Rick Monro.
Rick is Principal UX Designer at Puppet, shaping specialist products used globally by 75 of the Fortune 100 companies, including NASA, Sony, Salesforce, and Disney.
With over 25 years' experience in design, the last 12 have involved leading and managing design teams and working as a consultant to organisations, from startups to enterprises, across the UK & Ireland.
His current role addresses product experience across a full gamut of interfaces and touchpoints. Rick is also the organiser of the UX Belfast meetup, a STEM ambassador, and a regular event speaker.
...
The Future Sailortown Online Symposium
2.00pm – 4.00pm
In preparation for the StreetSpace workshop in June 2021, we will hold an online meeting to share the experience of more than a year of collaboration for a better-built environment in Sailortown.
Sailortown Regeneration, StreetSpace at QUB, Household and the regeneration teams in the Department for Communities and Belfast City Council have been working together to explore the stories of people of Sailortown so that we can better understand the needs of a resident and displaced community and provide ideas for a much better future for the built environment of Sailortown, one that caters for the needs, memories and ambitions of a diverse and authentic community.
We invite anyone interested in the history, present and future of Sailortown to join us for one hour of presentations and one-hour small group discussions to further explore the ideas for Sailortown's future.
...
Weekend Design Jam: An Immersive Workshop
1.30 – 4.00pm
The Weekend Design Jam is an immersive workshop brought to you by Big Motive and DesignThinkersAcademy. Tim Schuurman and Damian Cranney will be teaming up to work on a unique challenge designed to expose participants to the full experience of the Design Thinking methodology.
Putting all aspects of the methodology into practice (empathy, experimenting, active interaction and prototyping), participants will work in teams using Miro to take on a challenge related to this year's theme of 'Environment'.
Tim Schuurman (Co-founder, DesignThinkersAcademy)
Damian Cranney (Managing Director, Big Motive)
...
Who is my neighbour? Mapping your user ecosystem
4.30 – 6.00pm
How well do you understand the needs and the range of users impacted by your design work? Whose voices are included, and who has a seat at the table?
In this interactive workshop, we'll explore a prototype for mapping the user ecosystems of our design work in an effort to take our empathy research deeper and stretch our co-design muscles. Come ready to engage and leave with an action to try!
This workshop will be led by Peter Worth in partnership with Belfast Design Week and supported by Ladies That UX. We will be encouraging collaborative work, so bring your happy hour drinks - whatever they may be and get stuck into some design!
...
TELEQUIZION
8.00 – 9.30pm
We are delighted to have Alex McMillan & Laura Conlon from Telequizion curating a very special pub quiz for Design Week.
Alex McMillan is a quiz writer and game designer from Belfast. He writes for shows such as 'Only Connect', and 'The Wall', and has been involved in several online quiz projects including 'Lateral' and 'Mysterious Monsters'. Outside of quiz writing, Alex has created a competitive sudoku game, a board game involving a red ping pong ball with a face, and an online league dedicated to finding the most mediocre thing on the planet.
About Laura: Telly. Enthusiast. Growing. Experimenting with colour. Anxietyful. Wrote that Greta Thunberg question. she/her
–––
Saturday 7th November
Happy Big & Little Humans
10.30 – 11.30am
This workshop is for grown-ups and your littles on the importance of the environment for early childhood brain development. Learn the secret to child-led sensory play.
For more information please see here.
–––
CAPTURE CONFERENCE
Love film, gaming, animation & immersive technologies?
Welcome to CAPTURE! An interactive conference, now brought to you online and in the cinema, providing an unforgettable experience with talented creatives just like you, from all round the world. Our combination of an inspiring lineup, live Q&A sessions and film screenings provides a unique experience you can't miss.
For more information on the schedule for Capture Conference please see here.
–––