The Dublin International Film Festival has been running since 2003, bringing a host of high quality Irish and international cinema to an increasing and diversifying audience. Its 2016 edition, which was held from 18-28 February, saw one of the festival's biggest audiences yet, with more than 20,000 people, both new and returning, local and international, feasting on 100+ screenings and events. And after a 13 year relationship with Jameson, the 2016 edition also saw a new sponsor come on board – Audi Ireland – and as such the festival needed a different look and feel, as well as a new moniker, ADIFF. I chatted with Andrew Duffy of Atomic, Audi's incumbent agency in Ireland, ADIFF's in-house designer Sarah Moloney and ADIFF Projects Manager Sarah Ahern to see how they approached the task.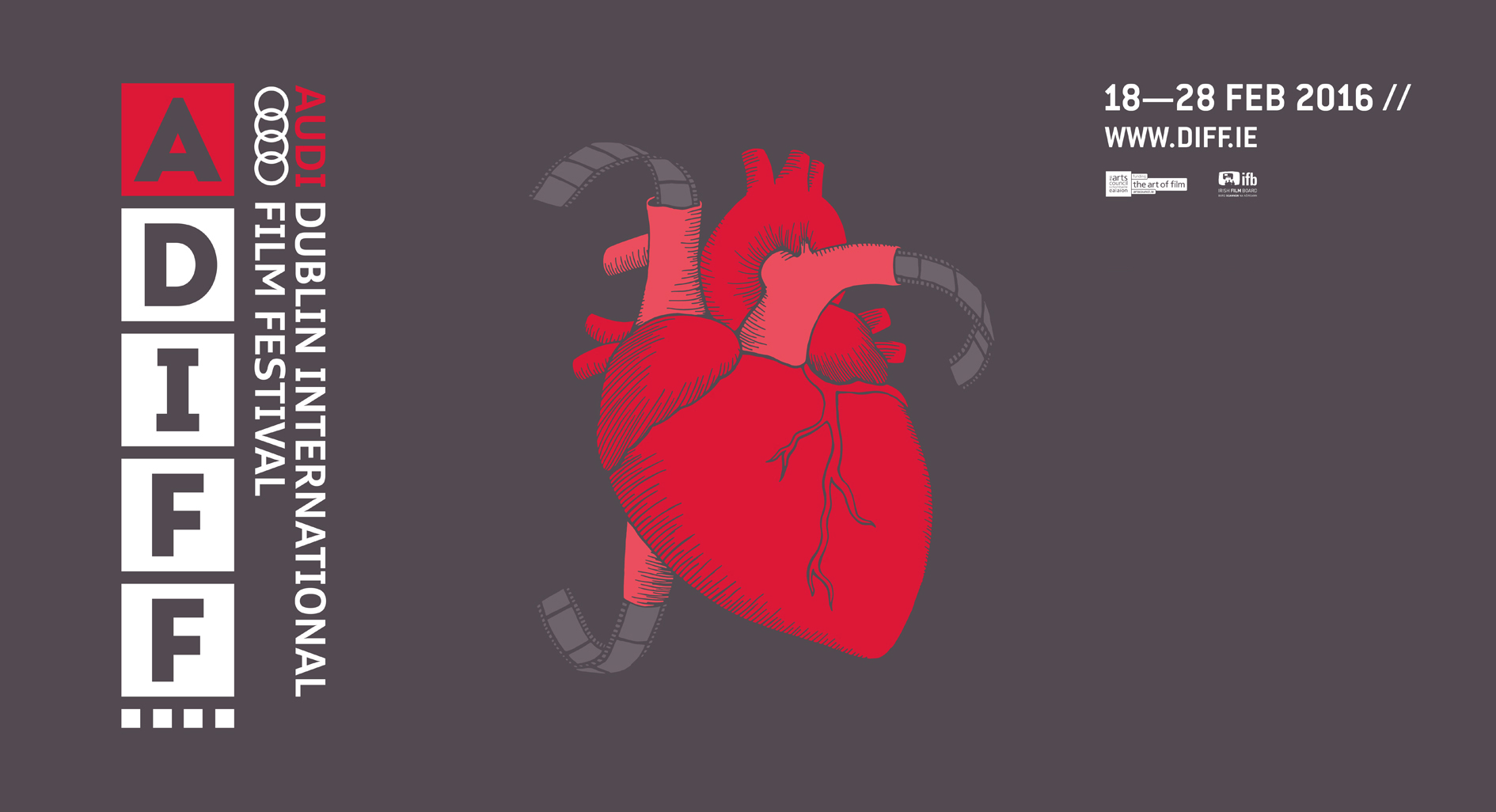 A new festival and sponsor means a fresh approach: while the identity and overarching approach was developed by Andrew Duffy in Atomic, ADIFF employed a new in-house designer, Sarah Moloney, to produce many of the festival's materials. 'It was apparent from Sarah's pitch that she was going to approach the brief with fresh ideas, while still maintaining the spirit of the festival,' ADIFF's Sarah Ahern tells me. Sarah Moloney's core idea, given the timing of the festival in February and the passion for cinema that it espouses, was to let the design suggest that the festival is a valentine to cinema, using a warm colour palette throughout and an illustrated heart as a recurring motif. Sarah Moloney explains, 'The illustrated heart became the key image that represented ADIFF's love of its audience and the audience's love of film. Illustration was not a path ADIFF had used often, but it turned out it was a good fit with the concept and added a human, organic element to the design.'
Meanwhile, Andrew took on the task of developing a new logo for the festival. It was a daunting, but very exciting project for him, as he tells me: 'I had only recently joined Atomic and this would be the first big project that I would have the opportunity to work on for the agency with a large scale rollout. I was very familiar with the festival and could see the potential for how any logo we designed would be seen across the city and beyond, so it was great to be given the opportunity to realise that.' He goes on to explain how he went about creating the logo: 'Due to the strong association the festival had with its previous sponsor we felt it was extremely important that the logo be really impactful and easy to place on any piece of collateral, leaving no doubt as to who the sponsor now was. Looking back at what had been used in previous years we felt that the logo had become quite busy and now was our chance to address that. It was also decided early on that the logo should have an overt reference to cinema, something that was very important to the festival.'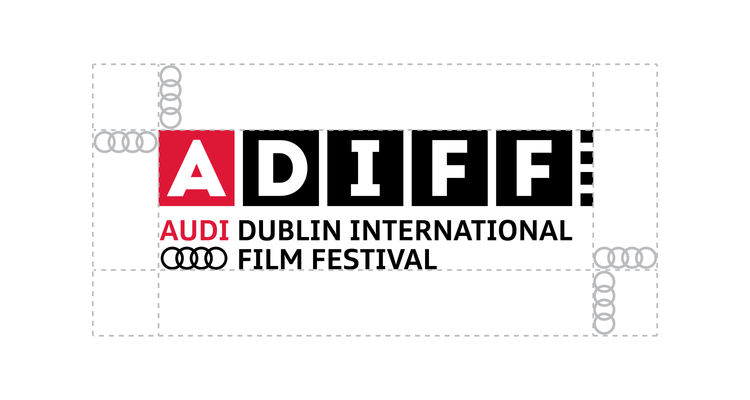 As such, Andrew created a logo based on the motif of a film strip, using the proportions of 70mm IMAX, often considered the best format to watch a movie in, and therefore an apt reference to make for Ireland's premier film festival. After time spent tweaking the logo and finding the right way to use it across a host of applications, big and small, static and moving, Andrew was pleased with the result. 'After the design had been finalised it was great to see it rolled out and how it acted as a nice counterpoint to Sarah's great illustration, full of character and fluidity.'

Andrew then worked on an outdoor campaign using stills from a number of the major films screening as part of ADIFF (such as Hail, Caesar!, Sing Street and High Rise), and even branded popcorn buckets and drinks cups. A playful opportunity presented itself in the form of the festival's annual AUDIence Award (see what they did there?!), with the audience at this year's festival rating each film they saw with one to four Audi rings. Another aspect of the festival introduced with Audi on board was a competition prize for six Dublin film fans: ADIFFerent Film Experience involved being taken on a trip round the city in an Audi Q7 converted into a mobile cinema, so the competition winners could watch upcoming Irish film Traders on their trip.
Another major development for ADIFF 2016 was the fact that, for the first time, the festival could include a strand of programming aimed at children and families, which meant that now more than ever, the festival needed really welcoming materials that could appeal to a broad audience. Sarah Moloney tells me more about designing for DIFF's big and broad audience, with many coming from Dublin and surrounds but more than 2500 coming from overseas this year: 'I was definitely conscious of the binary nature of the festival – that it's both a Dublin event and an international one. The festival is well-known and holds a special place in the hearts of the people of the city. We had a responsibility to create materials that maintained the integrity of the festival, while also appealing to the audience and introducing something new and exciting. In terms of ADIFF being an international festival, I aim for my work for the festival to stand up beside any other international festival. All design should do this: not aim to be as good as your neighbour, but to be as good as the best.'
Sarah Moloney and Andrew Duffy had a pretty mammoth task in designing this year's Audi Dublin International Film Festival. It's an event with a simple premise, but a range of aims, stakeholders and audiences, as well as a need to balance change with continuity. They also had a clear internal delineation between which materials each was responsible for designing, although testament to both designers' work is that no such delineation is visible to the rest of us. 'There was great unity and clarity across print and digital both in the work Sarah produced and Atomic's work on elements such as the outdoor campaign,' Sarah Ahern agrees.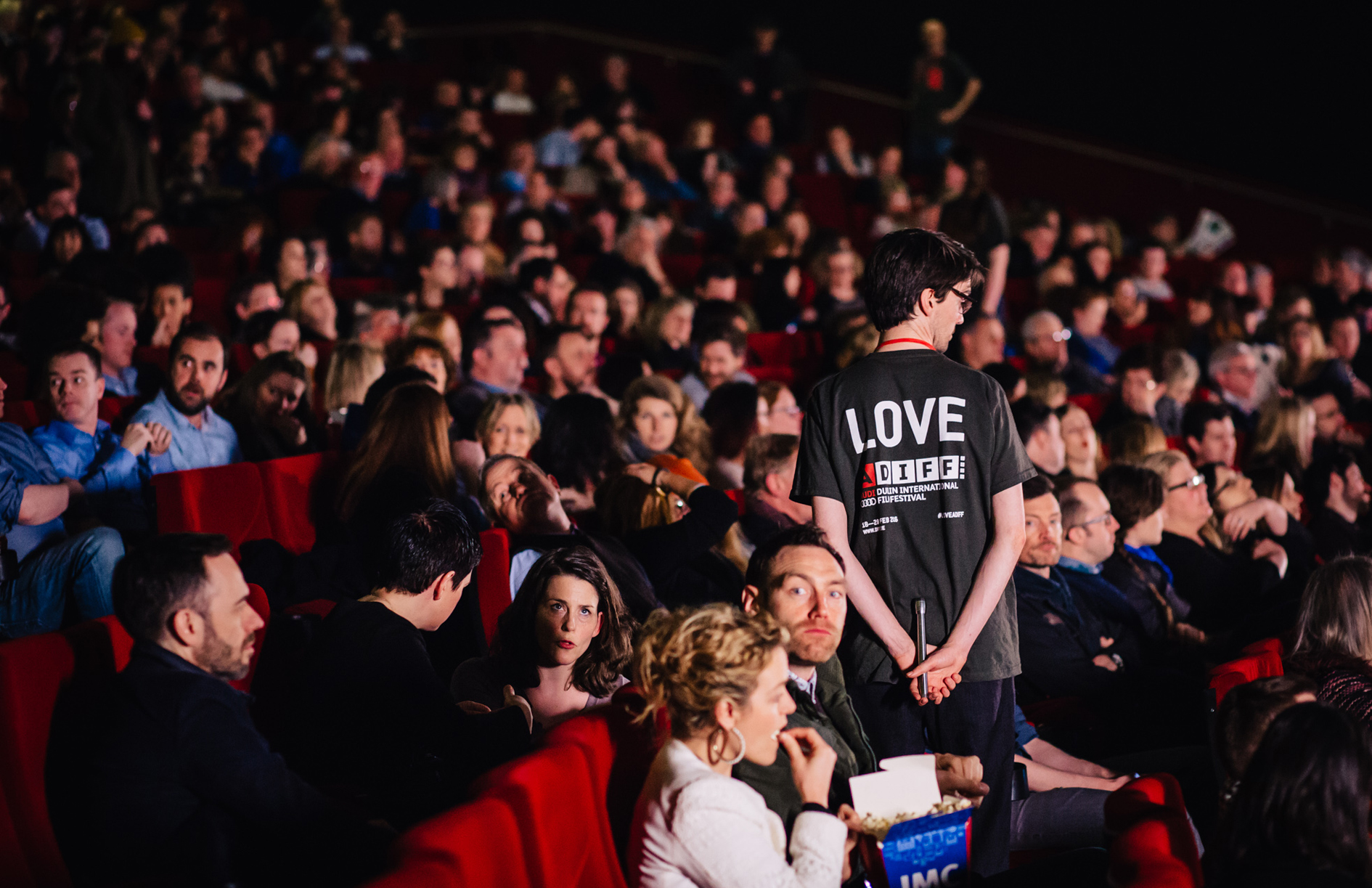 Sarah Moloney really shows a passion for what the festival is all about, and how design can tap into and express that: 'ADIFF doesn't want to be seen as a festival just for film buffs. They hope to include and offer something for all members of society. The programme of film that the festival director puts together every year reflects this. Naturally, the design materials should too abide by this too. They should remain of interest to the regular attendees, but also intrigue those who have never enjoyed the festival before. But I believe the theme of this design taps into something which is universal. It crosses the barriers of language and culture, because everyone can relate to love.' And Andrew is already looking forward to next year: 'Now that the reaction to the festival was universally positive and the name has bedded in somewhat, we look forward to pushing the boat out in terms of experimentation and creativity for year two of ADIFF!'
This year's Audi Dublin International Film Festival saw its biggest attendance yet, with more than 20,000 people attending screenings and events. Join the mailing list and keep an eye on diff.ie for information on next year's festival.