Design is an inherently human activity, and a designer's work is informed by the experiences, learnings, influences and associations they accumulate throughout their life. In this new series, we ask some of Ireland's top creatives to tell us what it is that has made them the practitioner they are today. 
Dubliner Tom Cunningham works as a Senior Product Designer for enterprise HR software solutions company Workday, on their Design Systems team. He's also co-creator and host of the Opacity podcast, a podcast about working in design.
____
I was born and raised in Dublin. I've been here my whole life. I'm from a working-class background and most of the people in my life made their living from trades and blue-collar jobs. I began my working life in the retail industry, but it wasn't the path for me. Not to knock those jobs, but for me, there was always a void that I didn't quite know how to fill. I've always been creative or 'arty' as you'd often hear, but I didn't have the focus or external influence to point me in the right direction to find an outlet for my creative side. At the age of twenty-three, I took a punt on college and applied for a portfolio preparation course. This was the first time I would hear the term 'graphic design'. It seemed to encapsulate a lot of the things I had an interest in, so I applied, got accepted and immediately it felt like the right fit. My design education started with a Higher National Diploma in Graphic Design, and then I went on to earn an Honours Degree in Visual Communications Design from IADT.
Creativity and DIY
As a designer, what excites me is the idea of being able to refine something over and over, constantly improving on the previous iteration, with the purpose of making something useful as possible. On my journey through my design career, this naturally led me towards disciplines like designing for web and motion graphics. I could cut out dealing with printers altogether and see the work through from concept to completion myself — that 'DIY' element of digital that makes it feel limitless.
I think a DIY mentality is integral to who I am as a person and as a designer. I love the idea of trying new things and teaching myself along the way. Learning by doing gives me a great sense of accomplishment, from design to art, to creating music and other forms of creative expression. There's a quote I always refer to from a musician called Devin Townsend that says: "…as a musician you should practice your technique to be as good as you need to be to facilitate whatever ideas come into your head." This speaks to me on a very personal level. Cultivating the creativity, intuition and ability to follow through and execute ideas to a high standard is important to me. I see it as going through life collecting the skills I need to facilitate my ideas in whatever form they need to be — not just theoretical skills, but the practical skills to actually make things real. I think of it as an imaginary tool belt that I add to and level-up all the time. 
Diversity and Expression
Philosophically, I like the idea of being a General Specialist — someone who has a broad spectrum of skills with depth across several areas. You don't need to be an expert in everything of course, but for me a growth mindset is important. The key is to ensure quality in the areas that you focus on. For me, my background in UX consultancy has been like a taster menu to lots of areas within the industry. Even though my core competencies are rooted in a traditional visual communications design education, the years I spent working with very strong UX and Research people served as an invaluable experience to beef up my skills base, especially in things like interaction and UX design.
Recently, I've put these skills to use by working with the UX Design Institute to create their new 'Professional Certificate in Visual/UI Design'. That was another rewarding challenge: creating and recording course material and videos for online learning. So in this way, my relationship with education has come full circle. One of the main reasons I was drawn to this opportunity was to try to pass on some of the lessons that I've learned myself. I wanted to create course content that would be practical and actionable — to help people make a change in their career or just beef up their knowledge so they can communicate with others more fluently.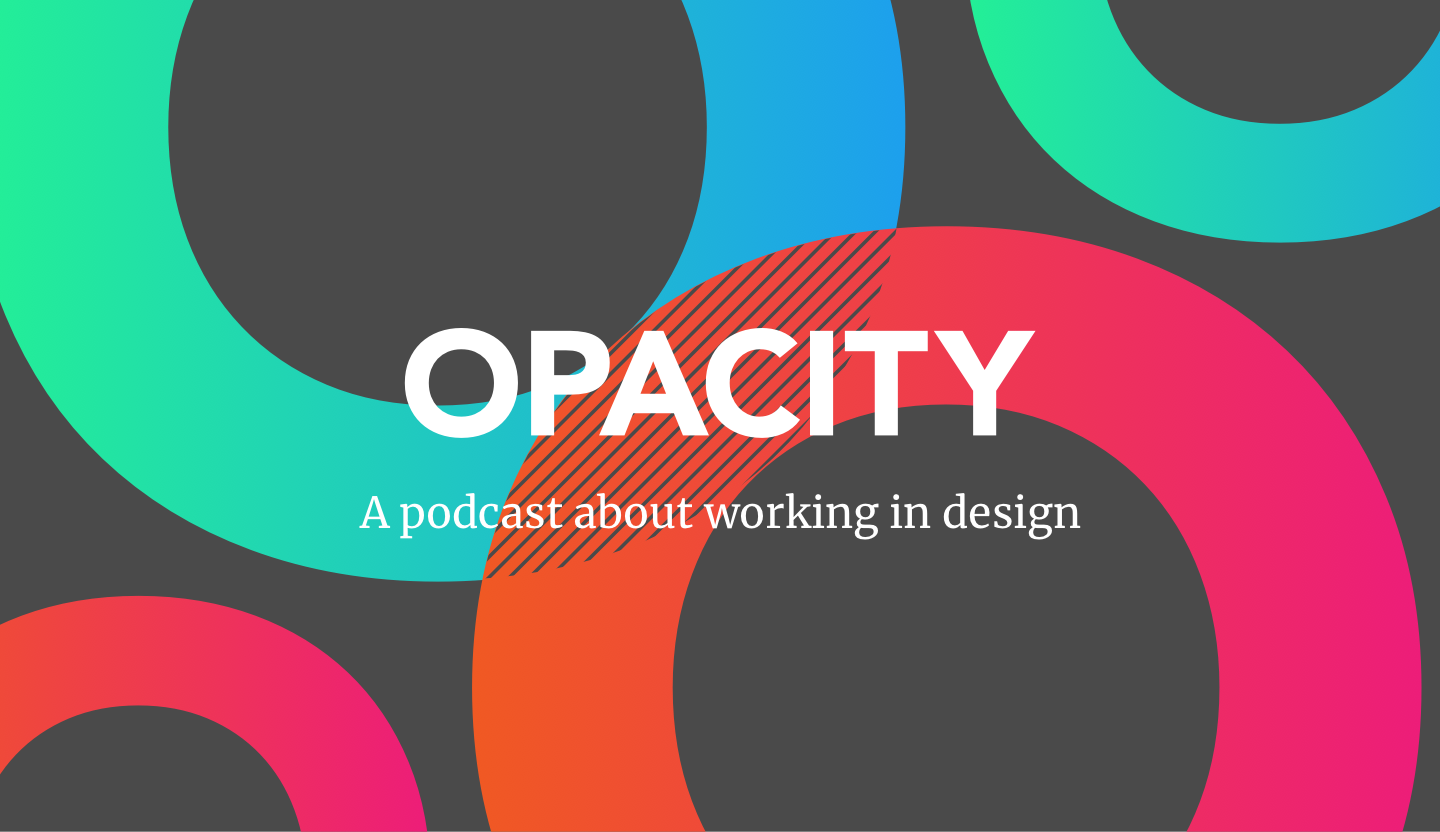 Diversity in our industry is not limited to skills alone but can be seen in all the different pathways into the design world. Design professionals come from all sorts of backgrounds: Business, Architecture, Industrial Design and Psychology. During my time at Each&Other, I created a podcast about design for business. After moving on from there, I missed the satisfaction of talking about design in a broadcast format and wanted to recreate that opportunity for insightful dialogue and learning. Considering my winding road into the industry, I wanted to find out how other people got into design and what their path was like. So, the Opacity podcast was born.
My co-creator and co-host is Craig Philips, an upstate New York-born UX designer living and working in Dublin. Craig is quite prolific in writing articles related to UX and he offers a different perspective from my own, so we can have quite balanced and nuanced conversations with our guests. It was a serendipitous coming together of minds, despite never having met previously we had both been thinking of reaching out to the other to chat about podcasting. We met for a coffee and it kind of felt like a first date (even though we're both married with kids!). We both had similar ideas and decided to begin with an experimental episode — and today we're twenty episodes deep. We cover everything from the role of education and how it's changing, to dealing with and learning from other people, as well as questioning the status quo of what's expected of us as designers and of how we look after ourselves.
To sum up…
I feel very fortunate to have the role I do now. I very easily could have missed out on all the things I've done had I not pursued a creative career. As I said, I didn't have connections or people in my life who could shine a light on careers like this as a viable and satisfying option. I now feel privileged to have a career of purposeful creativity — the opportunity to make useful things that improve people's lives. 
Maybe that's why I was motivated to start the podcast and offer others like me a candid glimpse 'behind the curtain' of design, to humanise and demystify this industry, and promote it as a worthwhile and feasible career choice. I keep thinking "If I was starting again on my path into design then what would be useful for me to hear?" I guess that's one of the things I would like our podcast to help with. From a personal standpoint, having this outlet helps me to stay sharp and crystalise some of the nebulous thinking that rattles around my brain! 
Subscribe to the Opacity podcast