Sanaa El Habbash was born and raised in Dublin to Palestinian parents. She's a graduate of the class of 2020 having studied graphic design at NCAD. We caught up with her to see how things have been going.
Sanaa has soaked up the influence of both her Irish and Palestinian heritage. "My parents moved to Ireland from Palestine over 30 years ago in the hopes of raising a family in a safe environment. As a result, Dublin has been home to me for the last 21 years of my life. I grew up with friends from different backgrounds, cultures, and religions, and have developed lifelong friendships. Both my Irish and Arab cultures have greatly influenced my life and work. I'm proud to be Irish and Palestinian."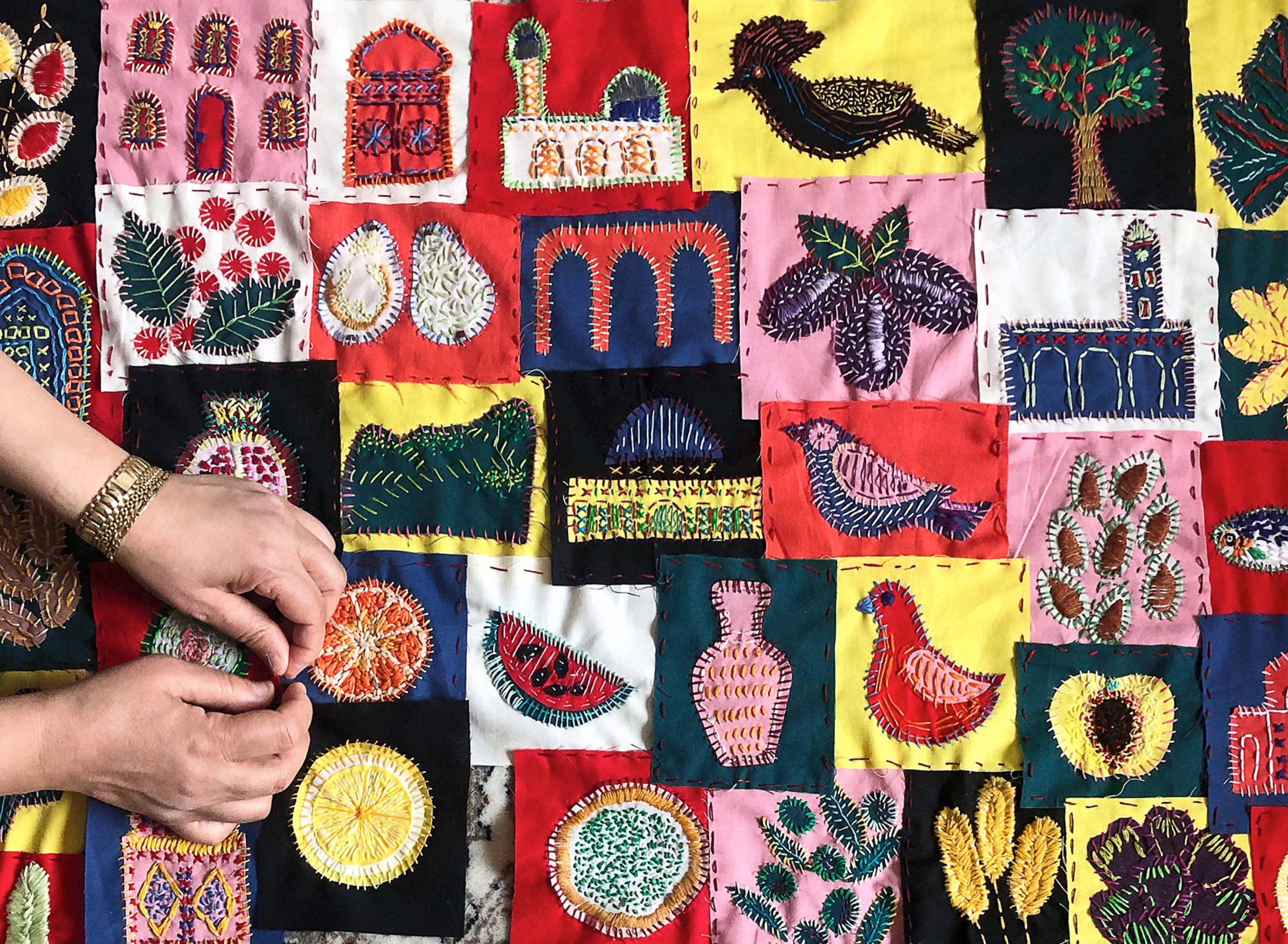 As a child her favourite subject was art and the positive reaction her early paintings and drawings received from teachers and classmates spurred her on. Besides school and art classes, she spent much of her early years in the kitchen with her family. "My mother is a passionate home cook and baker. I'd often watch her and my older sisters in the kitchen and help out when I could. It was in secondary school that I realised I could combine art with baking to create beautiful, edible works. As a result, I developed a love for baking. My whole family is kind of obsessed with food!"
Being the second youngest in a big family, she was initially wary of being the first to pursue something creative. But all along, her parents and older siblings had encouraged her to blaze the trail. "My brother, who was studying computer science at the time, would often talk to me about how the world was becoming more and more digital. He encouraged me to look at digital career paths and introduced me to graphic design. My other brother, an architect, bought me my first laptop in transition year. I began watching photoshop tutorials and mimicking the steps. Encouraged by how much I learnt and the enjoyment I got out of it, I knew this would be a career path to consider."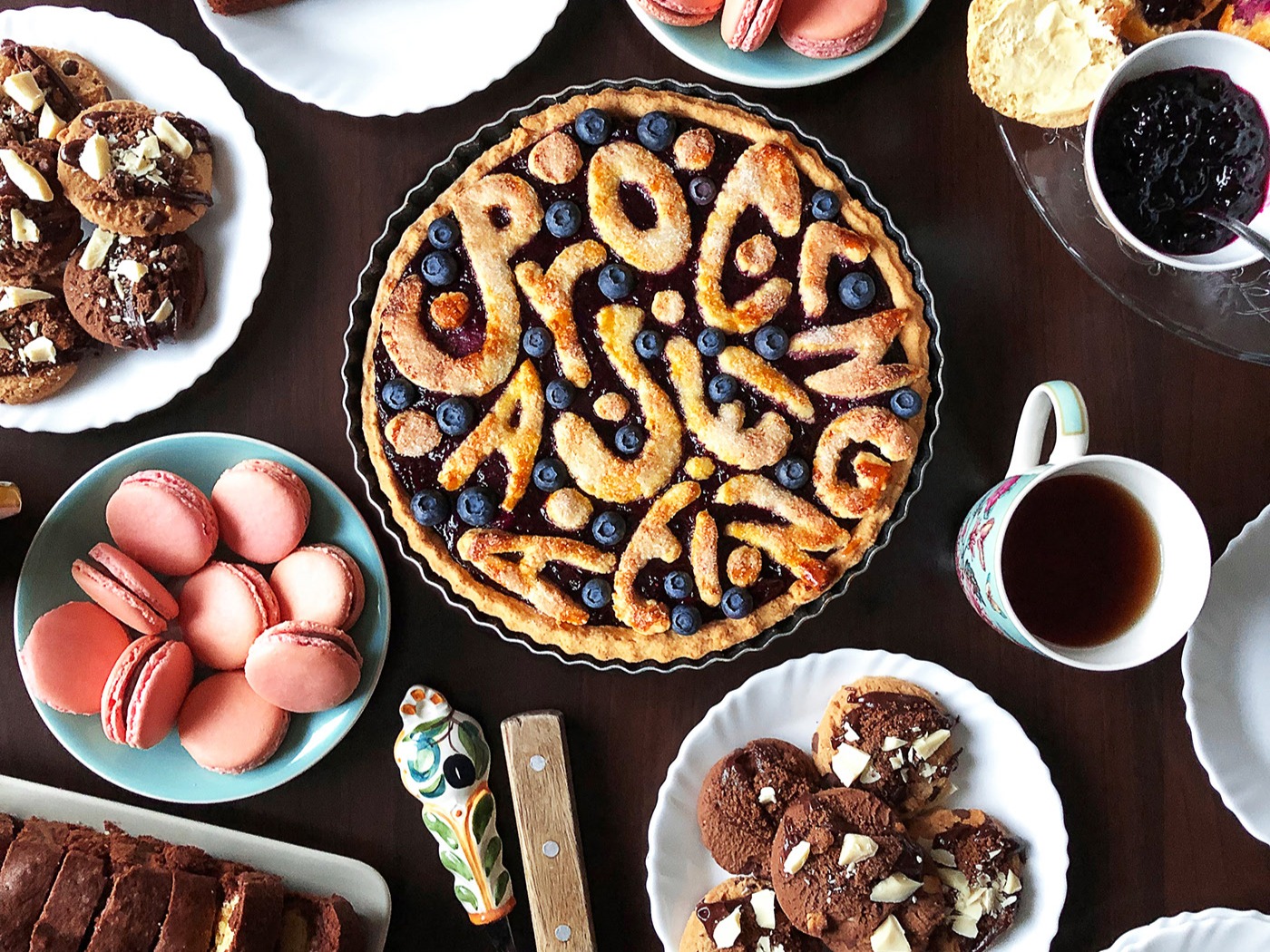 Once she arrived in NCAD, Sanaa had her mind set on improving digital skills. However, over time she discovered that graphic design doesn't always have to happen on a screen and began exploring handmade solutions to projects. Despite creating stunning, often edible works, she stresses the importance of the message that is being conveyed. "I have learnt that it is not enough to create pretty things. Nobody is going to care about what beautiful creations I come up with until I share the reasoning behind it. Over time, I have learnt that I can make beautiful work, but it has to have a strong meaning behind it." Sanaa's deep understanding of her Arab heritage has given her a unique perspective, which she is keen to explore in her work. "A lot of our culture is feeding people: making a lot of things, making a big effort and trying to please people. If you go to someone's house, you're guaranteed to have a big spread laid out. I'm Palestinian and a lot of our culture is about cherishing your roots. I feel like we are very patriotic. Even though we haven't been there, we try to hold on to memories and pass on stories. I like preserving part of our culture in some of my art."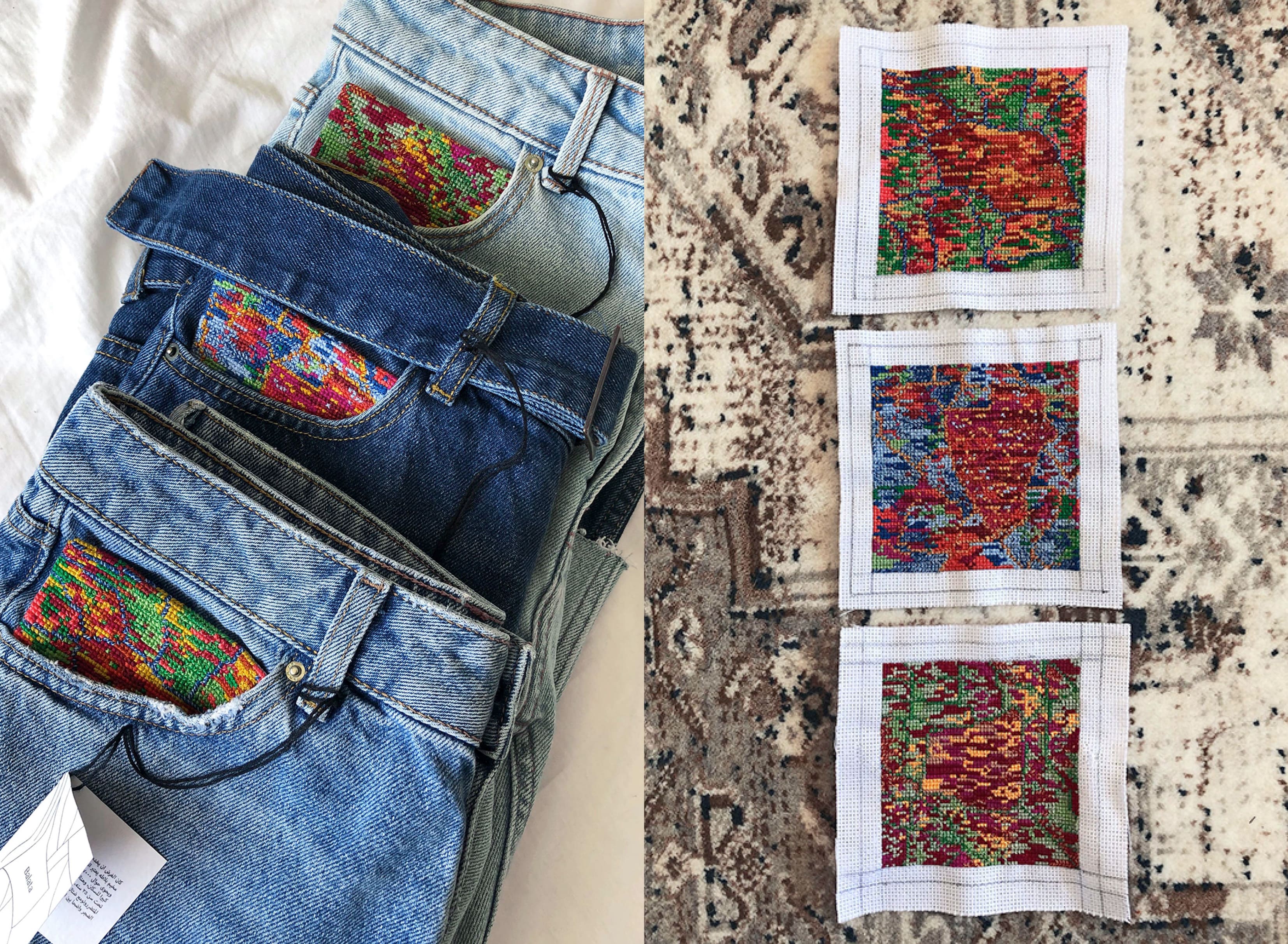 With this in mind, her hand stitched patches project Empty Pockets looked into the ancient tradition of embroidery. The work is often completed by women and as a result, makes them the primary income earners for their families. "It's a project inspired by the thobe, a Palestinian dress, which I did a lot of research on for my thesis. Embroidered stories are a really big part of Palestinian culture, preserving personal stories and memories through them. I looked into where it's still practiced and it's mainly those who are living in refugee camps. The patches were inspired by three main refugee camps where the embroidery tradition is still practiced. My pockets are aerial maps of those camps. Each has different colours inspired by each area and region. The pockets allude to the sense of emptiness felt by refugees, as well as the limited items they can carry on their journeys. As denim jeans are associated with Western dress, embroidering the maps into this modern clothing expresses the refugees' desire to belong in their new surroundings — an attempt to 'fit in', yet standing out in some way." Embroidery was a new skill Sanaa learned just to complete the project. "I had to do five embroidery workshops myself because I hadn't a clue how to do anything! I put a lot of time into them because they're so detailed and intricate. It took me the full three months to work on them but I enjoyed doing it." The huge investment of time was worth it and the project won an IDI Graduate award.
Her favourite project to date is A Lot on Your Plate, created as part of her final year submissions. The final outcome was a gorgeous illustrated plate, featuring the story of Hazaar Azi, a 22-year-old girl who left Palestine for Ireland to focus on work and education. Sanaa reached out to members of the Palestinian diaspora and collected a number of interviews before settling on the soothing voice of Hazaar. "As I listened to each interview, a noticeable pattern began to reveal itself. Almost every response referred to food in some way and recalled memories relating to a specific dish or food in general. With my interest in food, I was hugely excited to get started on this project. Given the fact that plates are associated with food, traditionally handcrafted by Palestinians and often fragile, I felt a plate would be a suitable medium to illustrate their stories. The round shape and endless pattern also represent repetition – the repetition of historical events and stories shared by Palestinians, and the diaspora."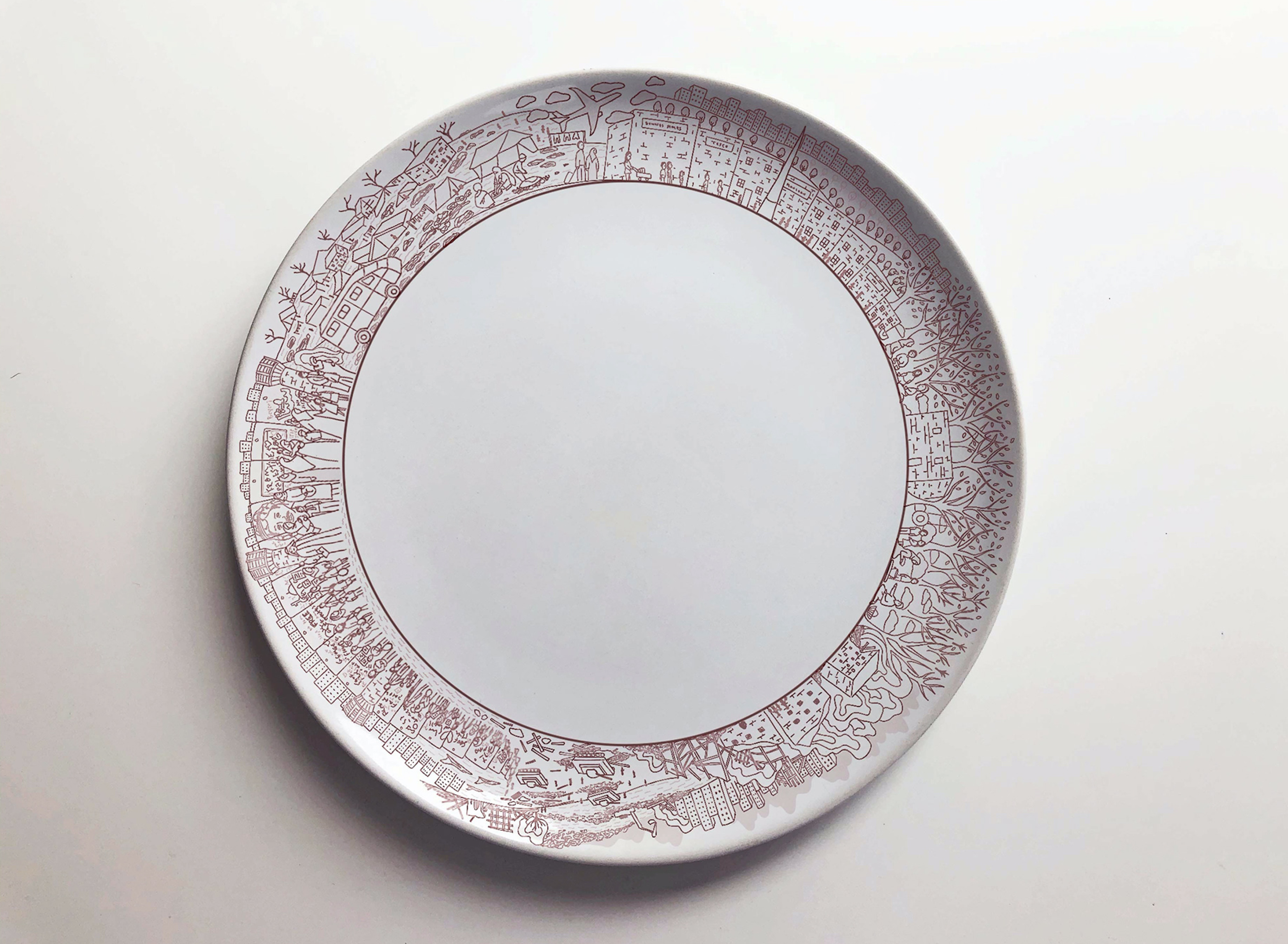 Unfortunately, the pandemic meant cancelled graduate shows for all colleges. Sanaa's work had been crafted with the intention of being touched and physically interacted with. Having to keep it contained within photographs was disappointing. "It was kind of annoying because people couldn't see or feel what you had made. I think the pictures don't do it justice. In particular, it is hard to see all the close-up detail. But you have to cope!" However, the good news is that she has been awarded funding from Create Ireland's Artists in the Community scheme to continue researching this project. She hopes to conduct more interviews and put together an exhibition in the future. "That's the plan – to have somewhere you can actually see the pieces. I want to see them there in-front of me. I'd also love to send them out to everyone who's story I used, to thank them for how their time helped create an outcome like this. I don't think they really knew what I was doing. They hadn't expected anything to come out of it!"
Sanaa hasn't let the challenge of the Covid-19 climate get in the way. She has created an online platform, Try Susus, where home-bakers and small businesses can sell to locals near them. She completed both the branding and web design for this project. She also runs an Instagram account where she sells her baked goods but has recently joined forces with other creatives to showcase their work in an extremely innovative way. "I'm collaborating with brands and using their products in my creations. Currently, I'm working with an Irish jewellery maker as well as a florist to incorporate their pieces into my work. It's a challenge because people send you a thing and you're like, 'okay, what do I do with this?' It forces you to think of different ideas. The end result is something that I'd never think of making. I definitely like collaborating with people, so this is a way of developing new skills. It's been a two-way system and is a good way of getting yourself out there." More recently, she has been working with Avonmore. "I got a huge delivery of protein milk yesterday. They want me to create recipes, take pictures and share them as well." The result is an exciting series of what might be called installations, incorporating edible design while showcasing local businesses.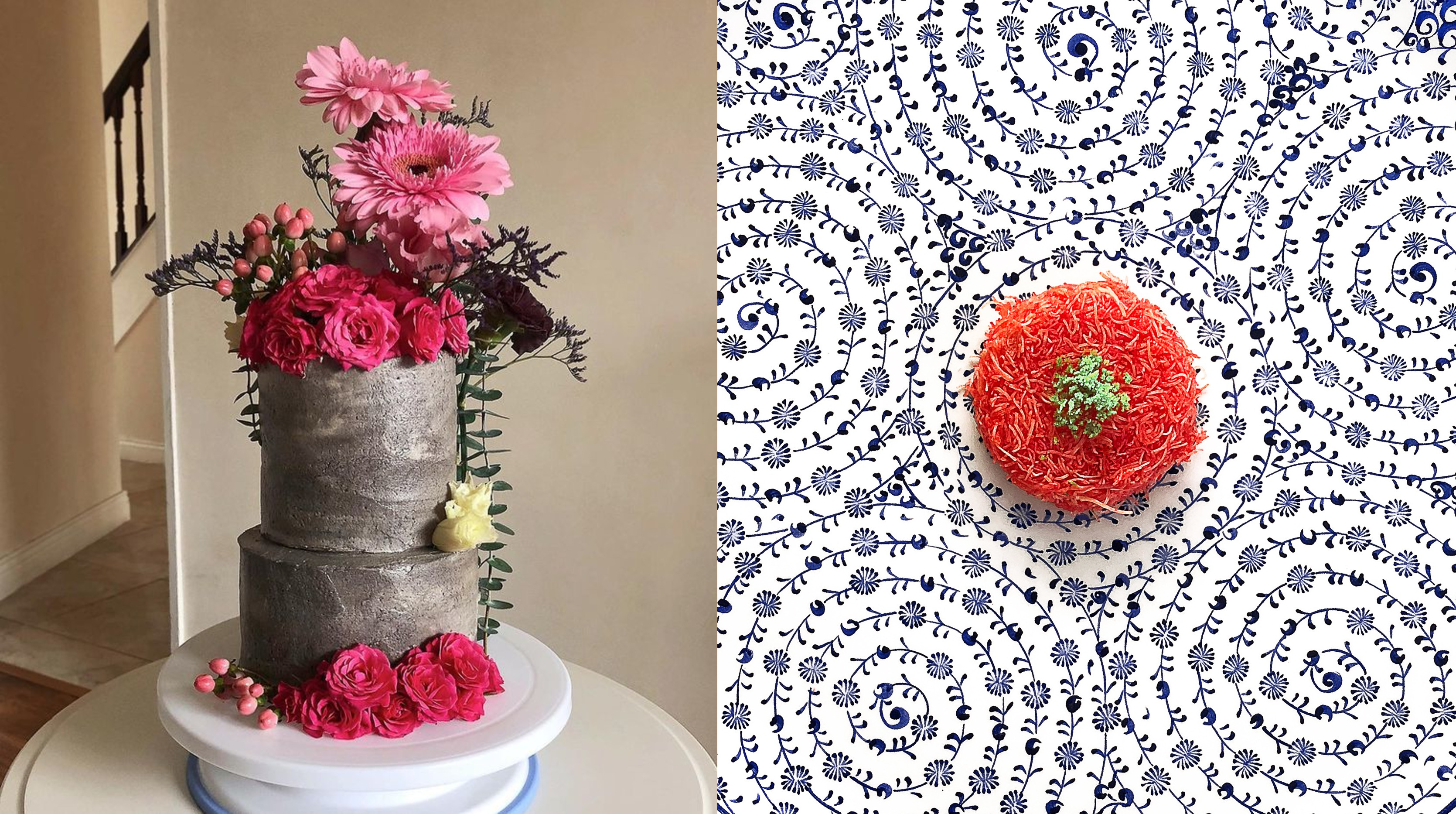 We asked Sanaa what she loves most about design. "One of the very best things about the design world is that you're constantly evolving with each project. The media you find yourself working with and your aesthetic approach changes from client to client, allowing you to get a better understanding of people as well as learning about different techniques and tools." Her current design obsession is Tanaka Tatsuya's miniature art. "It's amazing how much detail he can get in such a tiny piece. Not to mention the amount of time and effort it must take. The fact that he creates a new piece each day makes it even more amazing."