First up in our series of interviews with some of the Archive's newer and younger members is Sara Celik. It was Sara's passion for art that lead her to pursue graphic design as a career. Born to a Turkish dad and an Irish mam, Sara spent the first five years of her life in Germany before her family moved back to Wexford, to live on her grandparent's farm. "I loved art and had an amazing art teacher in secondary school. I decided to do a portfolio course in Gorey School of Art for a year and then got into Visual Communication in IADT, Dun Laoghaire, which is the only thing I really wanted. After four years in IADT I'm still in Dublin, working for Deloitte Digital down in the docklands."
During third year in college Sara got the opportunity to work on a live project, set by Deloitte Digital, which would ultimately lead to her working with them. "We had to think about a problem within the healthcare system in Ireland, and then create a design solution for that problem. My project focused on affordable healthcare services for students and young adults. I proposed a student-based health insurance app called 'Sponge.' The idea was that you pay a small monthly fee and then choose the services that suit you best. For example, a plan might include one doctors visit per month, 30% off your prescription in a pharmacy, 50% off a visit to the physio, 20% off an eye-test, etc. It would be flexible in that you could change your options depending on your personal needs." The project development lasted six weeks and ended with a presentation in the Deloitte Digital studio. Sara's was the winning concept and Deloitte subsequently offered her an interview for a summer internship.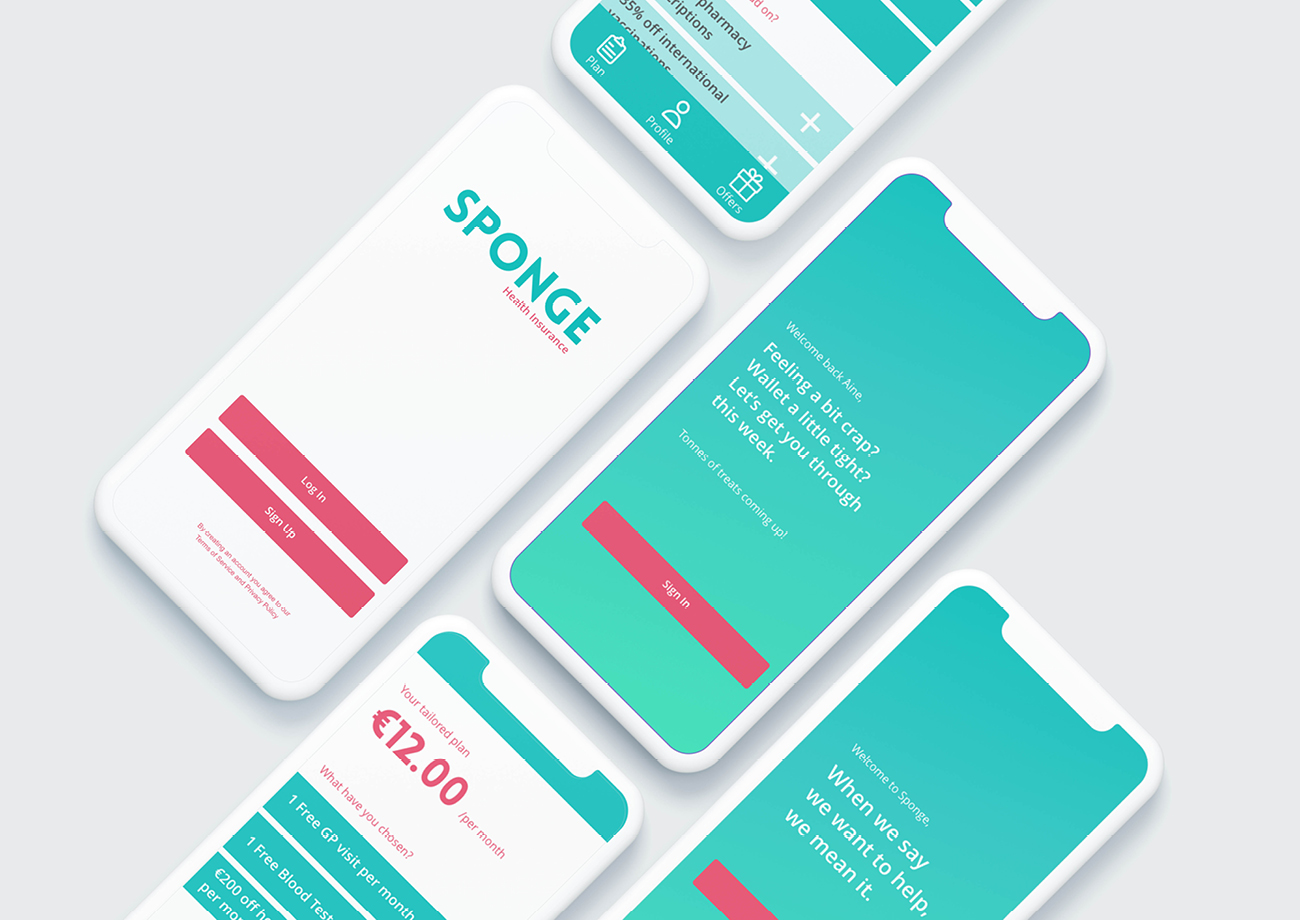 "For me, the internship was great. It really opened my eyes to working in the industry itself. I did a lot of internal work during that time, and a lot of initial research for the WhyDesign website that was launched this year." When the summer internship came to an end the creative director, Claire Dowling, offered Sara a full-time role on completion of her degree at IADT. She was only delighted to say yes!
Working with Deloitte Digital as a fully qualified designer, Sara was given the opportunity to work on a much broader range of projects. "Within a couple of weeks, I was user testing, working on UX and working closely with the art director, John O'Connor on various video elements. I've just started a new project, which is due to last a few months and is probably the biggest thing I've been involved with to-date. It's much more than just design, there's an opportunity to see a full end-to-end experience and to be a part of every point in that." For Sara, one of the most appealing aspects of working at Deloitte is the variety of design processes and skills she is picking up. "Lately I'm working with video a lot, and I think it's a great skill to have. I love editing footage: chopping and piecing things together. I'm learning about customers too, different persona's and journey mapping. It's important to figure out the relevant touchpoints that a customer may have with the potential product. We often hold workshops with clients and use different techniques, one being something Claire, the creative director, calls a 'research safari.' We go through the research that we have collated with the client to create a first draft of the customer / product journey. We split into groups and map out the different mad and wonderful ideas that could potentially make up the story. Then we start to wireframe, basing our designs and decisions fully around the customer and how the customer would potentially interact with us. I've come to realise that it's not just about launching into making something that looks amazing. The customer is at the centre of every decision."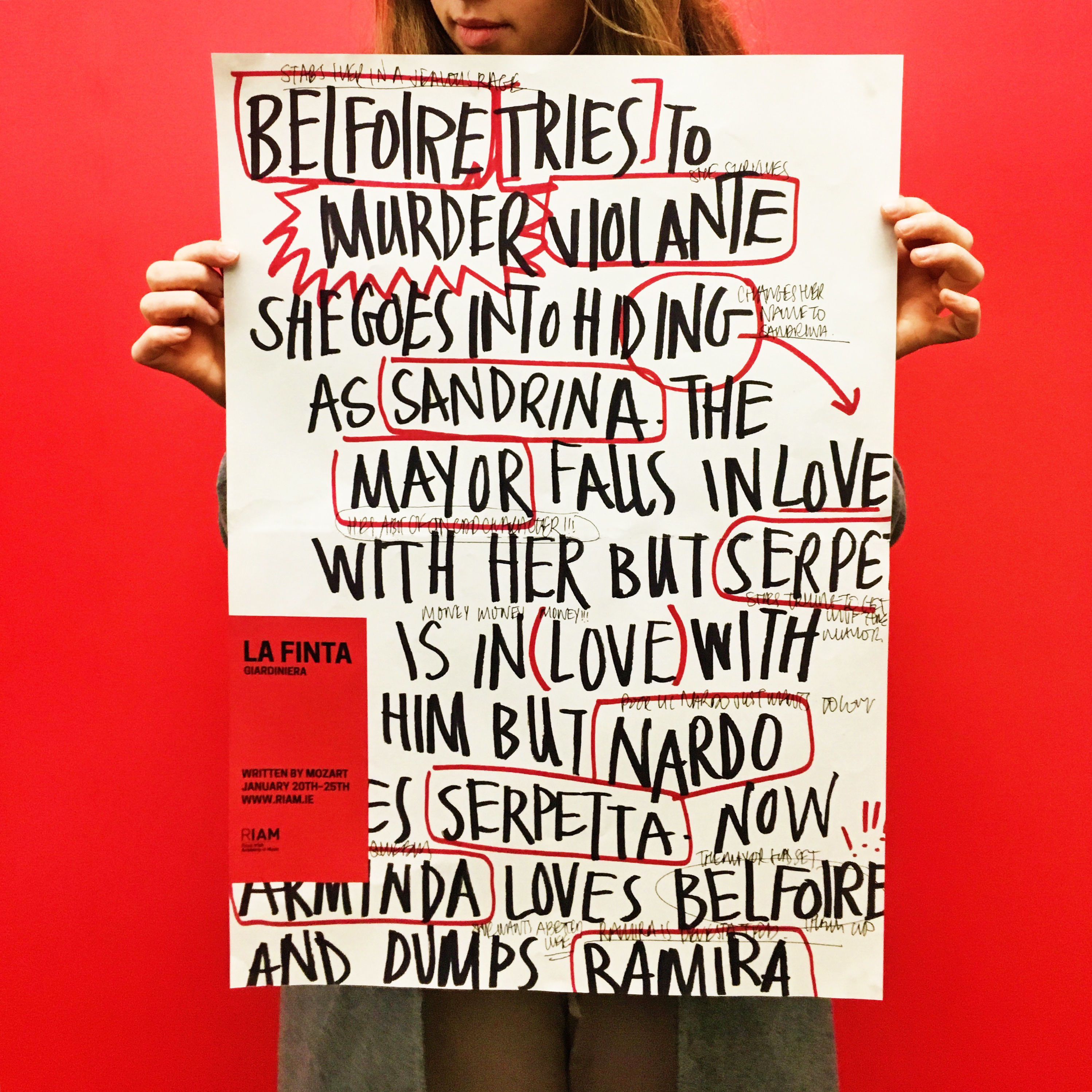 Sara has been able to integrate the fundamental design techniques she learned in college with these new design thinking systems that she is acquiring at Deloitte. In particular, she finds the development stages of a project very exciting – "I often find so much beauty in the actual process of doing things. I love seeing the initial design iterations with notes and scribbles over the work." During the initial stages of a project Sara likes to work quite "fast and loose." Laughing, she says, "In college my desk was always a mess. Everything in my head would be smashed all over the table and the walls. It's funny because I've continued working the same way in Deloitte Digital – plastering things on the walls. The guys are always laughing at me."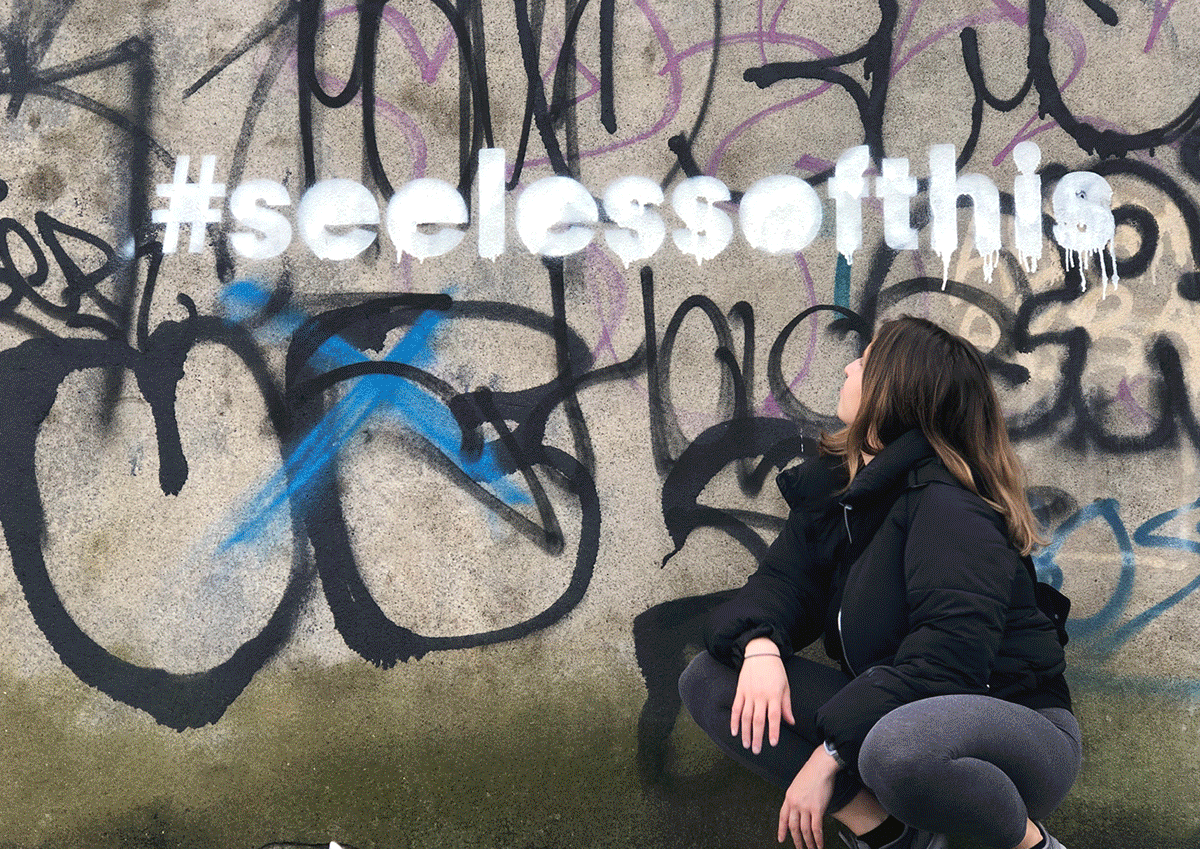 Working on a project that deals with sensitive social issues can certainly be challenging. Sara's gradshow project, 'seelessofthis,' featured a campaign that focused on the negative pressures of social media. "Self-harm amongst teenage girls has risen by 70% since 2011 according to research in the British Medical Journal. This rise is partly due to young people's obsession with social media and the mental health issues arising from this. #seelessofthis wants to change how young people see themselves." With the intensity of working on her final project and preparing for the graduate exhibition, Sara says she became burnt-out creatively but learned a lot. "It's a lot of pressure. I loved my idea and I think it was really strong, but I definitely think I could have done better or done more. I guess that's good though – to be able to look back on it now and be critical. In fourth year, the lecturers take a step back and allow you to make more of your own design decisions. It was such a huge learning curve, not just for me but for everyone. It's quite scary because up until that point you have been receiving so much support. It helps you to find and use your voice, and to recognise when something isn't working."
Recently Sara has been exploring different examples of innovative service design. "I'm honestly obsessed with everything Revolut are doing. I know it's very basic but it's completely revolutionising digital banking. It's not just in relation to design though, it's how they are applying design thinking to create streamlined solutions that package everything into the one banking app – insurance, credit, savings, offers. Now you don't have to go anywhere else for these things. It's all there, and I just think that's so smart. It would be a really interesting area to work in."
As a recent graduate, the most important thing that she has learned so far is that the working world is very different to college. "IADT does a great job in preparing you for the big bad world but once you go into a studio it's a different dynamic. You're not working for yourself. You're working as a team. Learning to work with and for people does take some time." Aside from everything Sara has learned in terms of design, she also says it's important to be present and helpful when dealing with clients and colleagues. "Stay late occasionally, help with admin stuff, ask if you can be included in meetings – just be present. It is so important to soak up as much experience as possible now."
Initially when she graduated, Sara didn't really know what area of design to pursue. She is still figuring out what areas of graphic design she likes and doesn't like, and enjoying every moment of it. "Now that I'm more settled, I've started to have an itch to get involved with some of the cultural design things happening in Dublin." She's pretty content with life at the moment, but hasn't ruled out travelling in the future and would love to experience working abroad (preferably somewhere hot!) "I'm loving the space I'm in at the minute and I have a busy few months ahead of me. Nearly everything we do here at Deloitte will help people all over the country and beyond at some point in their lives. We're designing to make people's lives easier and to help people use every-day things. Design comes in all shapes and sizes. It may not always be ground breaking or stand out in the same way as a mega re-brand, but it's good design…good design for human beings."

We certainly look forward to seeing more great work from Sara down the road! Visit her portfolio website here.