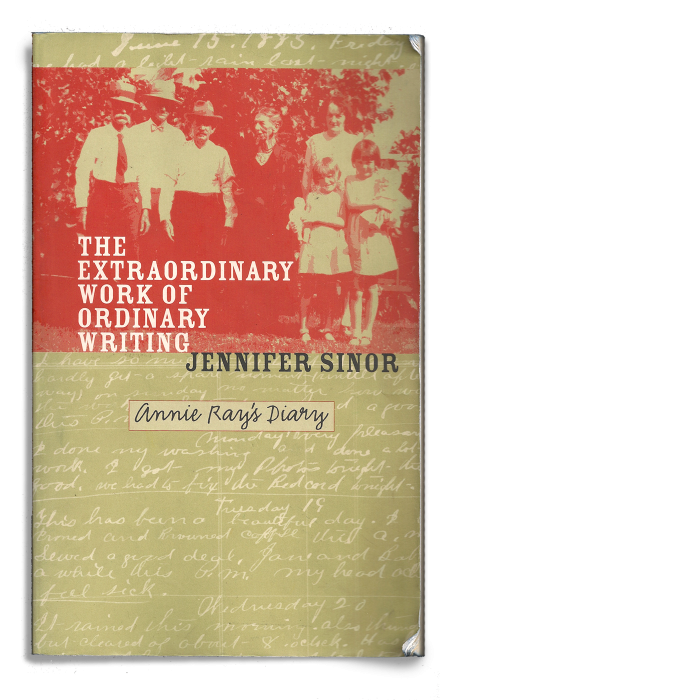 The Extraordinary Work of Ordinary Writing: Annie Ray's Diary by Jennifer Sinor
This book by literary scholar Jennifer Sinor relays extracts from the diary of Sinor's great-great-great aunt, Annie Ray. The diary gives an account of life in a Dakota homestead in the late nineteenth century and the narrative of the book is focused mainly on these extracts, while a dance between Sinor's scholarly argument and her own personal memories is woven through their distribution.
I was recommended the book by a tutor on my Masters course at Central Saint Martins, who was encouraged to suggest it in response to my research on 'the everyday' at that time, and the influence this book had on the work I produced on the course is undeniable. Sinor explains early on that her idea of 'ordinary' writing covers many things, for example; notes, shopping lists, telephone messages, and the personal diary. The book is set up in such a way that it challenges the reader to rethink how they view 'ordinary' writing, and to start recognising the value in it. The engaging format of using Annie Ray's personal story makes the academic argument easy to digest. Annie's diary was not written with an audience in mind and therefore lacks the affected language or narrative plot that might be expected had it been. I was completely inspired by Sinor's resistance to her instinctive urge as storyteller to fill out Annie's diary extracts, while also wholly won over by her argument not to do so. Sinor presents her aunt's entries free from any loaded impressions of her own informed literary ideals. She remains true to the original diary entries and is fully committed to maintaining the integrity of her aunt's writing. To share an example, one extract from 1881 reads:
Jan[uary] 20
Thursday
Morning Cloudy – P.M. Pleasant. I felt very cross all forenoon. Everything I touched seemed to go wrong. Felt like scolding someone But did not and am glad of that. I do not think people are always to blame for their feeling so at times. I wonder if Charley is thinking of me.
Spelling and grammar are presented exactly as found in the diary. On many occasions, as with this example, Annie's thoughts are written in the diary and crossed out soon after. The diary breaks the format of traditional storytelling and Sinor is keen to inform the reader that Annie Ray's 'story' may disappoint many, as it lacks the navigational structure we are most familiar with. The collection of diary extracts has no real beginning, middle or end; elusive new characters are introduced irregularly with little explanation and there is no real resolution to many of Annie's woes. To that end this diary narrative seems to be going nowhere, however, through Sinor's argument it becomes apparent that the opposite is true. She convinces us that the preservation, and presentation of the narrative as is, can tell us more about the life of a woman in this era than conceived literature might be able to.
Both the honesty of Sinor's conflict with how to present the diary and the maintenance of integrity in the format she does choose, have had a huge influence on the direction of my work since finishing this book. Sinor writes towards the end about how the process of analysing Annie's diary enabled her to develop the tools she needed to read the value in her own 'ordinary' writing. In turn, it was reading Sinor's book, that helped me to develop the tools I was looking for to inform my own ongoing approach to design.