What's your background? How did you get to where you are?
To be honest, I'm not really too sure. I've somewhat bumbled my way to being a designer. When I left school I started studying Commerce in UCD. After a year I left to join the Multimedia course in DCU. Three years later I was finished college and trying to pursue making music videos with some friends from college. This led me to meeting Team D.A.D.D.Y and then Studio Aad. A small video job with Aad led to them offering me a junior position and after two great years with them learning how to be a designer, I left in late 2013 to take up my current position in RTÉ Digital.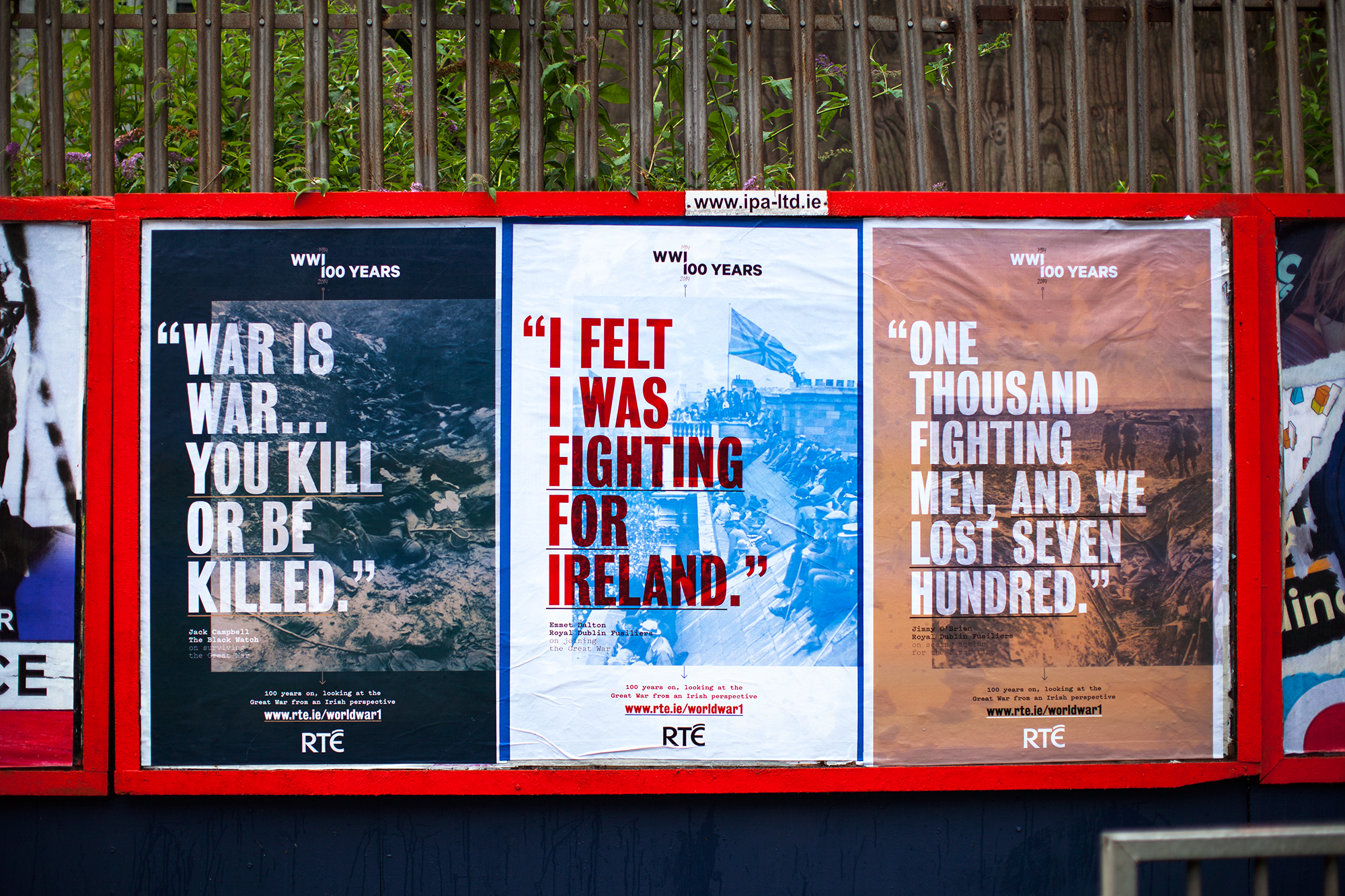 How would you define your role / practice right now?
I'm employed as a Senior Digital Designer with RTÉ Digital. The distinction of working for RTÉ Digital, as opposed to just RTÉ, is an important one as the organisation is actually split into separate business units. My role is to maintain and enhance the current portfolio of RTÉ Digital products (Player, News Now, RTÉ.ie, etc), help make sense of, form and deliver new products or services, and help people throughout RTÉ understand where design can help them and what can be achieved by working through problems with a designer at the heart of all discussions and decisions.
RTÉ Digital's role is to provide the digital products and services that the public need from RTÉ to the standard they expect and on the device that they choose to access on. RTÉ Digital is also responsible for leading digital strategy and output across for all of the organisations individual business units.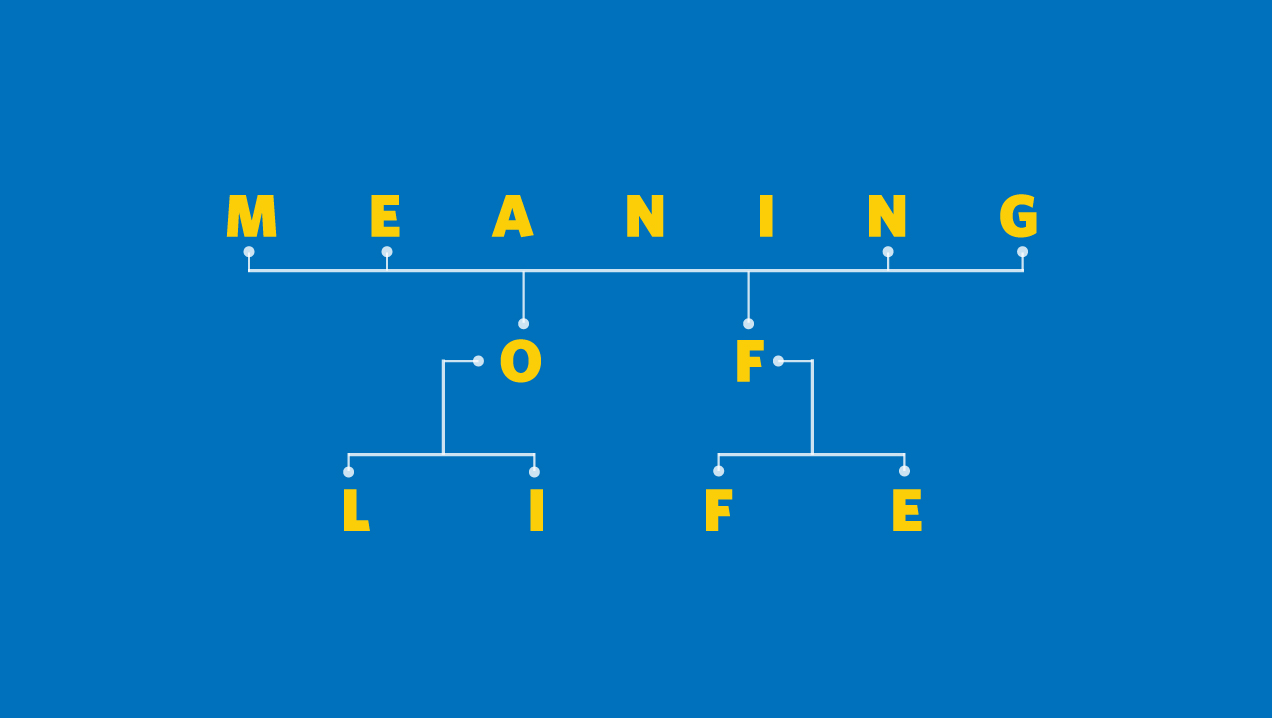 Do you think that definition will change?
I'm not sure. I think the definition of 'Digital Designer' as opposed to 'Designer' can be troublesome. Even in the current definition the lines are very blurred anyway. Some projects may start as an RTÉ business unit asking, "Can you make us a website that does…?", but after sitting down with them, exploring what they are actually looking for (and more importantly what their customers need) and asking the right questions, you discover that a visual identity, a way of talking to their customers, and a plan for how and where to talk to those customers, might actually be what's required…and not another webshite! So, we end up delivering strategy documents, visual identities, print materials, etc, but I think that's the right thing to do as a 'Designer' working in a 'Digital' environment…I wouldn't be solving the right problems or helping anybody otherwise.
From a company perspective, I think there is a realisation now that splitting digital from everything else might not have been the best decision and that the digital team needs to be embedded across all business units. It's hard for the RTÉ Digital team to be responsible for all digital output from RTÉ in a company that is split into individual units with separate budgets, resources, etc. What we deem as the best decision for our customers digital needs may be overlooked at times due to different objectives across the company. RTÉ may also split into dedicated product teams…who knows! So, I may become lead designer for RTÉ Player and RTÉ News Now (for example) as opposed to just a digital designer for all of RTÉ.
So, will the definition change? I'm hopeful anyway. I may continue to do the same work, but it may be easier to get that work done as a 'Designer for RTÉ' as opposed to a 'Digital Designer for RTÉ Digital'. This may be tricky to achieve through trying to create a structural shift in the company, but it may be possible with a cultural shift and by design education throughout RTÉ.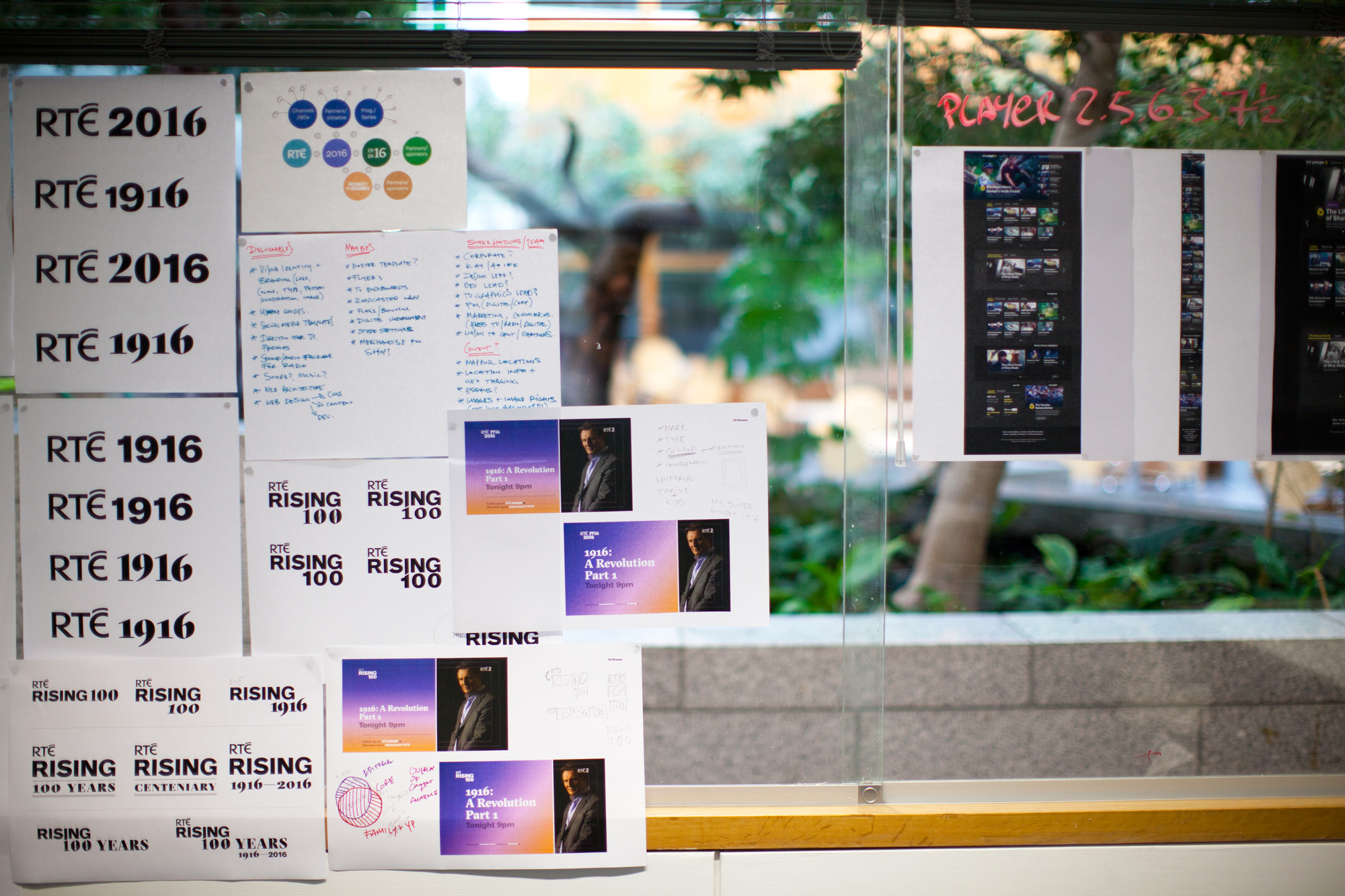 What do you set out to do with your work?
I think my role as a designer is to ask the right (and sometimes tricky) questions, make sense of all the information to hand and guide a person or company to the right solution through interest, discussion and clear communication. At the end of this we should have a clever solution to a clearly defined question with a strong purpose that has a place in the world. It should be executed with care, quality and attention to the details that will make somebody enjoy/feel at ease with whatever it is.
My aim is to do this through an enjoyable process while laughing and making some friends along the way.
Be Sound!
What's your motivation?
To be a useful nuisance to RTÉ, asking the right questions because I always have our customers interests in mind. To get in over my head with projects and always try to be naive, working to understand as much about things I don't know in order to communicate and deliver the right solutions.
To use clear thinking and simple language to create carefully executed solutions that the public enjoy more and find easier to use, but also that the people working in RTÉ find easier to do their jobs so that they can focus on creating interesting things at all times.
To bring a small studio feel to RTÉ (in terms of efficiency, quality and general soundness) where possible. RTÉ has a bad reputation among a lot of Irish people and I like the idea of trying to change that through the design principles I was taught in my previous company from a group of intelligent guys who care a lot. I'd really like RTÉ to be respected for simple, high quality, interesting design throughout its products and services and believe I can help achieve that…with time!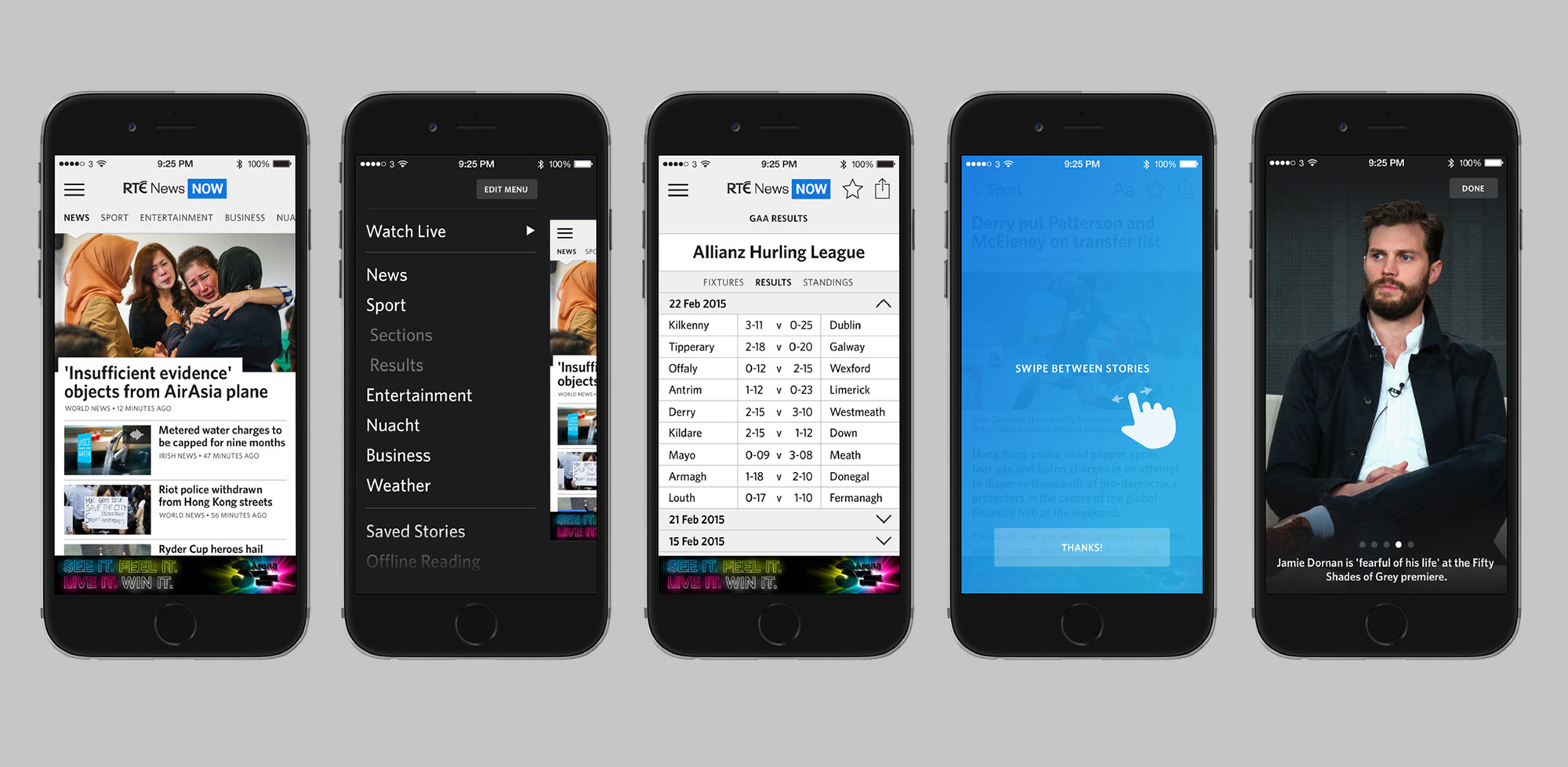 What values do you try and instil in your work?
'Could my Mam use that?', 'Could I sneak in any puns/kittens into this project?', 'What would Kanye do?' …These are the 3 questions I begin all jobs with. Basically, I try and laugh and have fun while doing the job at hand. If the team and myself are doing this then we'll enjoy the job we're doing and create better work. Better work means more interesting solutions and the desire to make those solutions as strong and as fit for purpose as possible. All this should benefit the public who use our products and services….shouldn't it…shouldn't it?…tell me I'm right!
…Oh yeah, that's the other value that goes into all my work whether I like it or not, crippling self doubt!
What is the main focus of your practice?
Digital, with a big massive capital D. I'm hoping that just becomes Design over time, with an even bigger capital D.
What are the areas you work in?
Helping people from all RTÉ business units (e.g., Radio, TV, News, etc) make sense of what they're trying to achieve and delivering this through the necessary medium.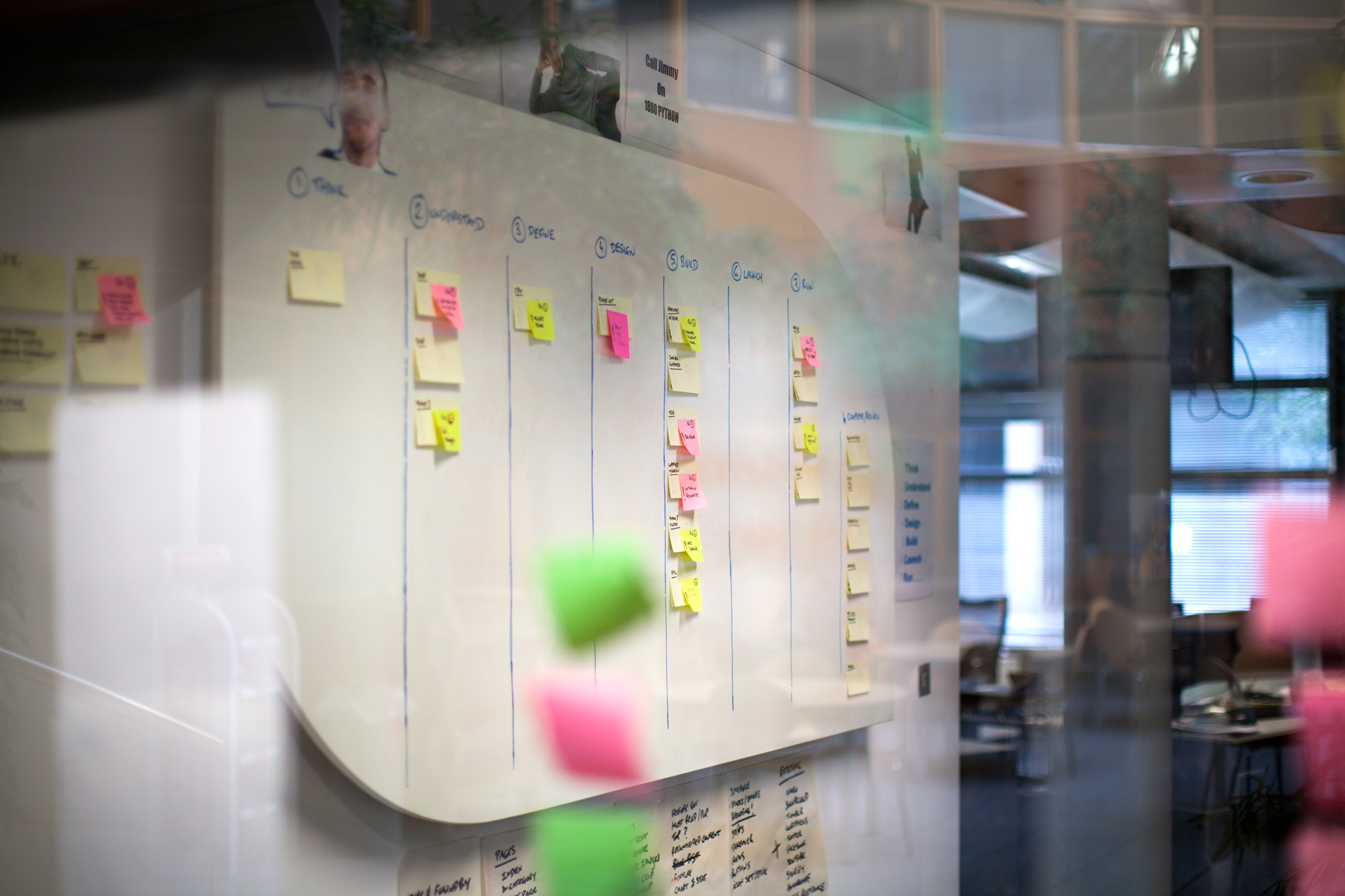 What is the scale of your projects?
From changing the label on a button to see if our customers will understand it better and use it more, to making sense of a new product/service and executing the final solution…with everything in between! And all this for a very large audience, potentially every Irish citizen.
How many projects do you undertake a year?
10-15 large projects…countless little ones.
How long are your timelines?
From forgotten about last minute end of the day deadlines to 12/18 month long projects that can include public procurement procedures and having to make significant design, work flow and technology changes. These can be too long at times to be honest and have a negative effect on projects by giving people (myself included) too much time to overthink things.
Can you give an indication of the budgets you work with?
I could but I'd probably end up on some Oireachtas committee somewhere no doubt so I'll refrain from this question.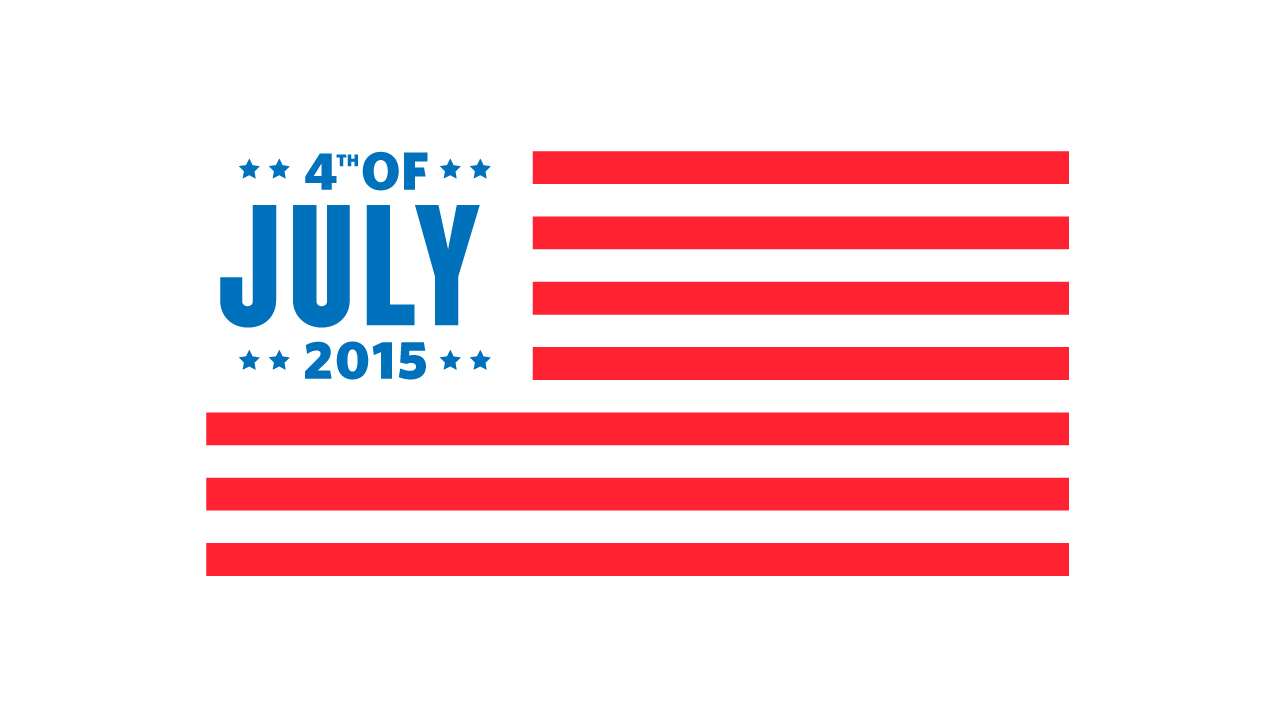 Can you give us a sense of what your working week would be like?
Busy…with meetings.
Meetings/Workshops to figure out what people are trying to achieve, meetings to bring people through proposed solutions, design reviews, some time sitting at my desk designing things, and testing… a lot of testing! We have no test team in RTÉ Digital so a lot of time is taken up acting as a test manager/lead combo to QA our products and services. Boring stuff, but it has to be done to keep the quality high and achieve the principles and standards we're trying to reach.
What type of outputs/outcomes do you deliver?
All of the buzzwords! Strategy Documents, Branding, Visual Identities, UX, UI, Visual Language, Digital Products & Services, etc. I deliver all this through a process that attempts to put making sense at the heart of every decision.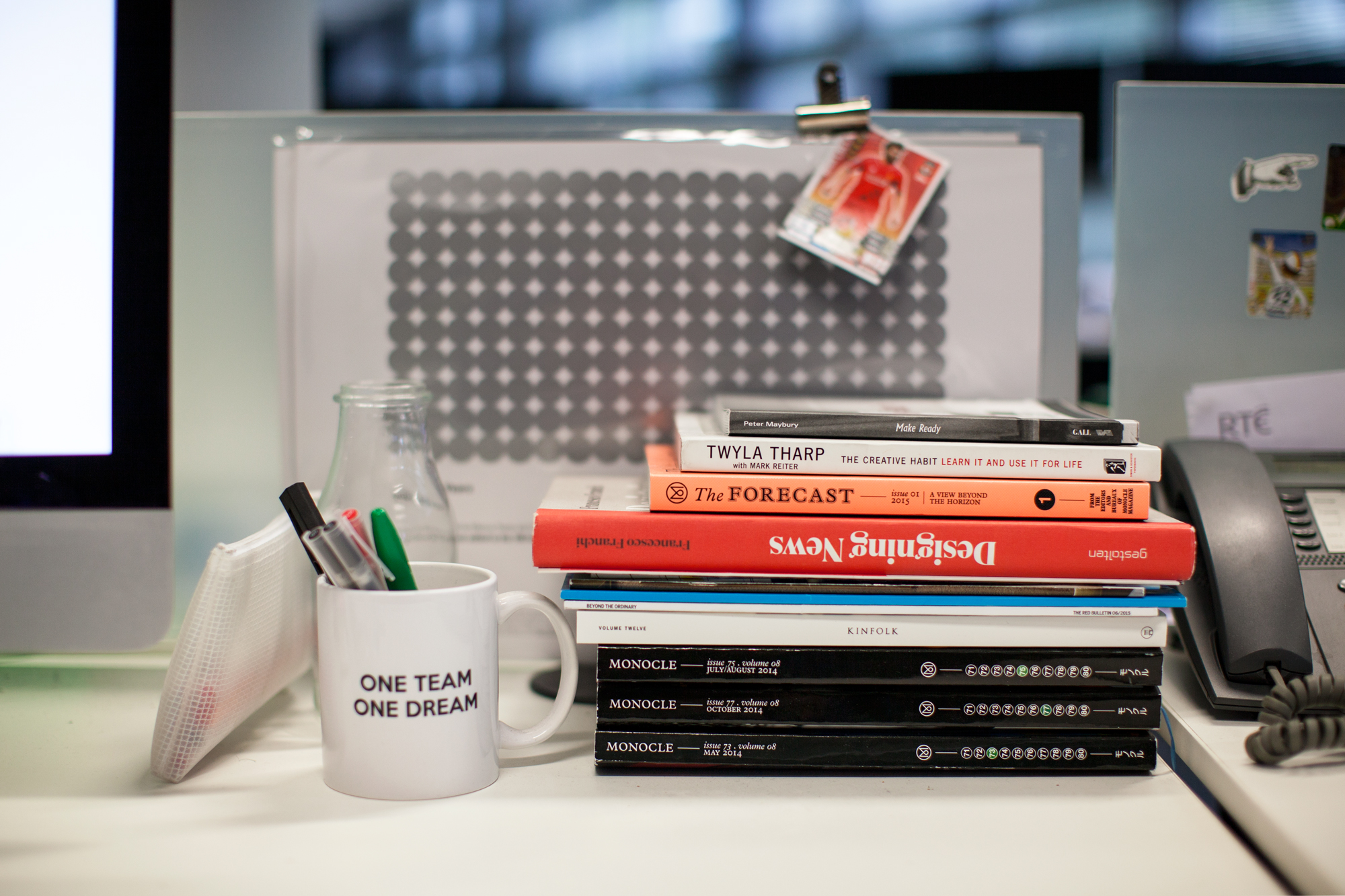 Do the people you work with understand what you do / understand the value?
Like all jobs, some do and some don't. I've had the, "but that's not your job", a few times at this stage as well as being pulled aside by the one department to be told I can be, "quite scary at times", one of my greatest achievements which i'm sure will surprise anyone who knows me and my manner. All this is because I'm asking a lot of questions about what people are doing, why they're trying to do it, and how they are doing it in order to better understand things so I can communicate/design the right solutions.
I suppose I'm working in an environment where roles are traditionally boxed off and asking 'Why?' a lot can be uncomfortable and perceived as being negative instead of what it is, which is trying to get as detailed an understanding as possible so I can, in turn, make the best decision for the company.
The challenge is helping the company understand that a good designer will ask a lot of questions, but only because they care and are trying to help. If people are helping the company solve some of its problems, then it shouldn't really matter what their tiles or roles are as long as they're all working together for the same reasons…shouldn't it?…yeah?…no? Oh god, there's the crippling self doubt again!
What do you consider a successful project to be?
Where we make something a member of the public (our customer) enjoys and finds easy to understand while also making a positive impact on the workflows or working culture in RTÉ. And making things easier for people do their jobs.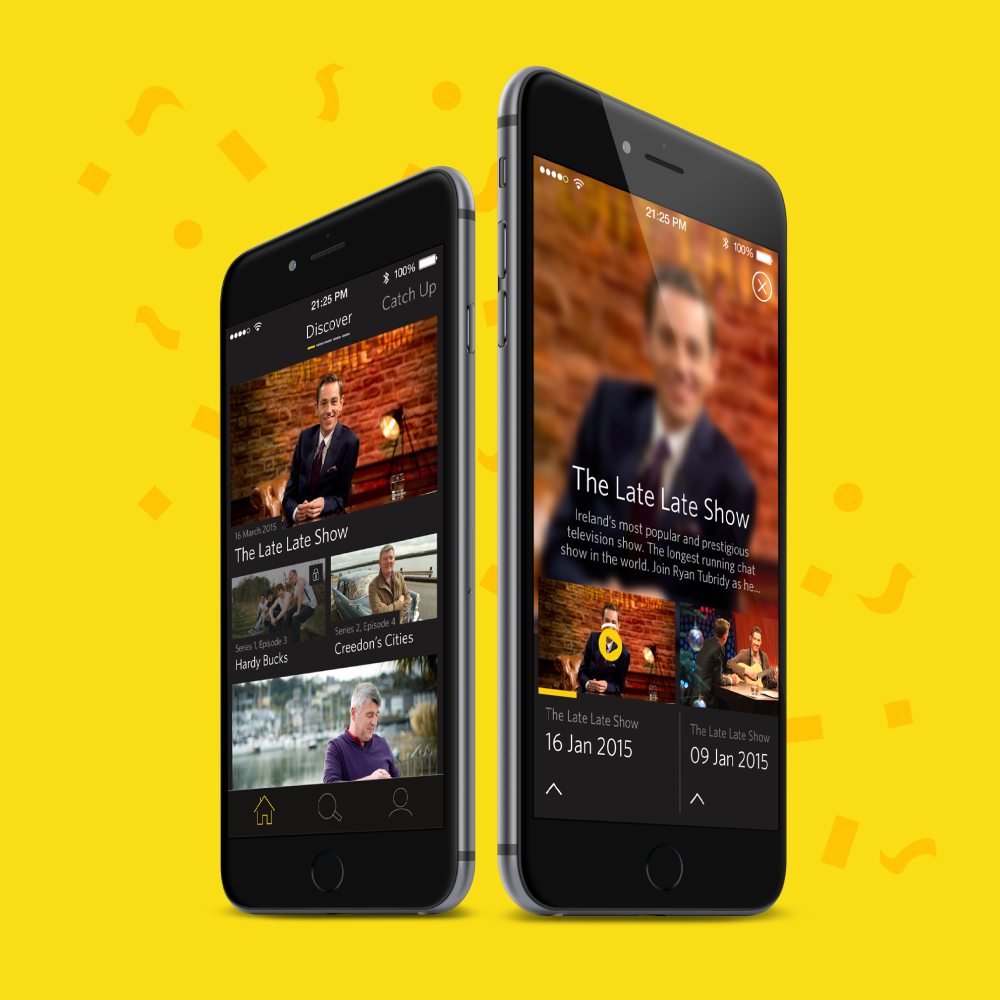 What do you feel is the impact of what you do?
I think I can help create useful RTÉ products and services that people in Ireland need and enjoy using to help stay informed and entertained. I also think I can help apply some of the great values of RTÉ, values that are being questioned (and rightly) by Irish people all the time, into the digital environment.
What's the most important thing to get right in order to do your job properly?
To be involved with projects from the start because of the value I can bring. In order to communicate to people what the company wants to communicate, I have to understand it clearly. It's only then that I can make the correct design decisions. Most of the time I can achieve this, but if I could help break the 'strategy is different to design' thinking that exists in a lot companies then It save a lot of time, money and heartbreak for all involved!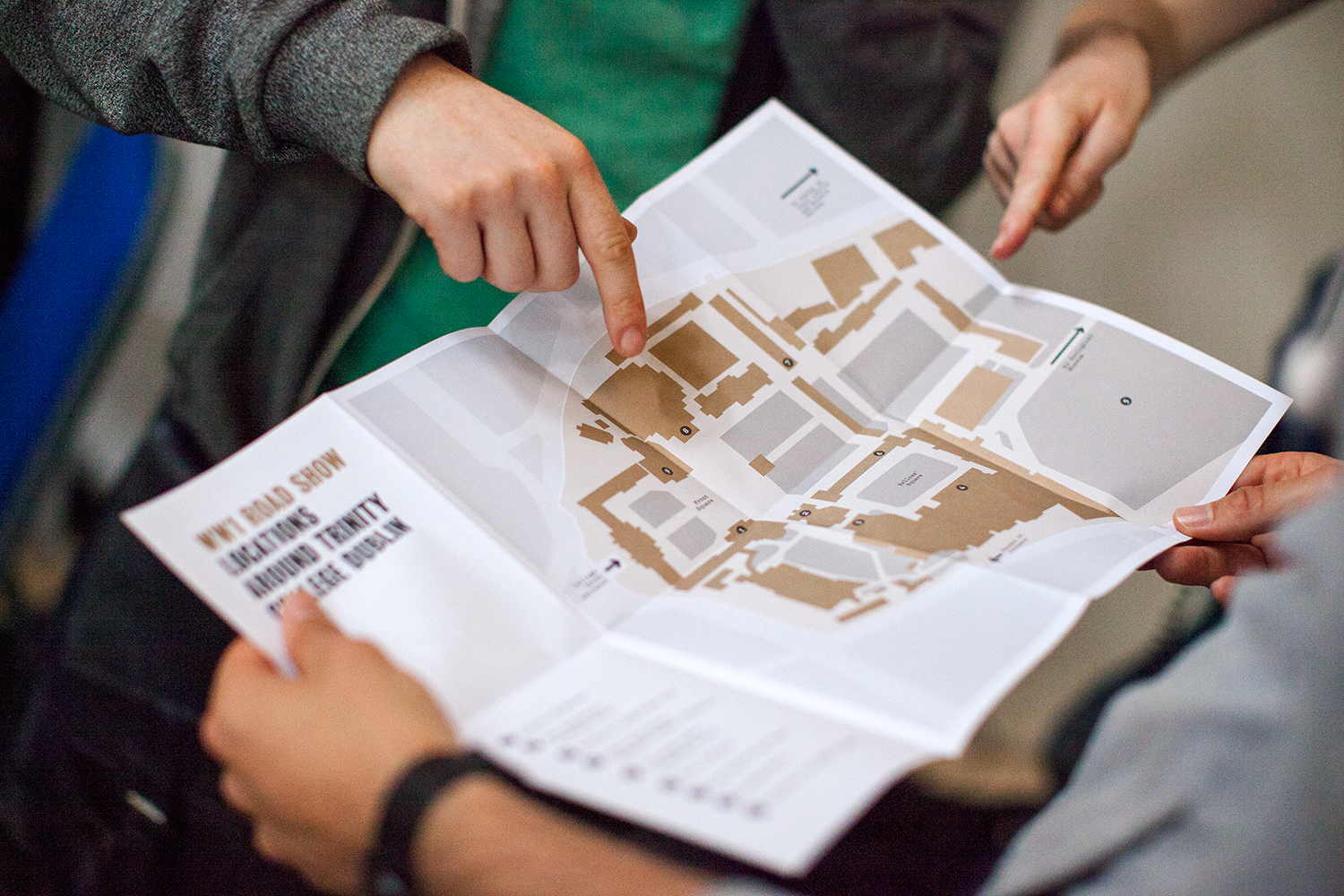 Are you working the way you want to? What would you change?
No….but I don't think anyone does. Most people complain about how they currently work, or talk about how they have to change how they work. Most people just want to feel like they are improving, and if you constantly change how you work to try and do that, then you feel like you're moving in some sort of direction… hopefully its forward and not backwards.