Earlier this week we spoke to Rory Simms, Associate Partner at Pentagram and Paula Scher's right-hand man. Now we take a closer look at the inner workings of Eddie Opara's team, speaking with Associate Partner Ken Deegan and designer Jack Collins. Ken arrived in NYC in 2010 shortly after finishing his BA in NCAD, while Jack began as an intern in 2015 following his studies in IADT. Now they're climbing up the ranks and learning tonnes along the way...
Ken joined Pentagram at the same time Partner Eddie Opara did, who brought a small team with him from his previous studio, The Map Office. 'Everything was new for me as well as the team Eddie brought from his previous studio. There was a nice camaraderie with all of us starting together in a new place. We were three designers, a developer and the partner—so, quite small.' Throughout the years the team has had to expand and contract depending on the projects being worked on: 'Now we are a team of 5 designers, a project manager, two developers, an intern, and the partner. It's an excellent group of people with strengths in a variety of design disciplines,' Ken explains. Jack continues, 'Like most of the teams, we grow depending on the type and amount of work coming in so there's been a number of different iterations in my time so far. The core of Eddie and the long-time associates and designers has always been consistent though. One of the exciting aspects of Pentagram is that there's always fresh faces but it's nice to have a core close-knit group too. Then as people arrive they're joining the family, so to speak.'
Pentagram is obviously a studio that operates a little differently from many others, which makes the work environment a unique one, but it's largely positive for Jack and Ken. Jack explains, 'The most positive and possibly defining aspect of Pentagram is that for a studio of our size it's still a designer-led company through and through. From the partners down to every level of every team, the vast majority have this shared background and passion. The same interest and drive that led us to design in the first place is an embedded part of the company culture and I think that's really important.' Ken speaks about the deceptive nature of the size of Pentagram: 'While Pentagram has over 200 people in various offices around the world, individual teams range from 4–16 people. We may appear big but it always comes down to 2–3 people executing a full project.' 'Yeah, it's tempting to think of Pentagram as this large design machine that rolls along cranking out work for big brands – I know I had that mindset as an outsider,' continues Jack. 'But for all the company's scale and the large clients we get the chance to work with, my day to day experience is still about sitting together with a handful of other designers to solve problems and make good work. I think there's a belief that we have stockpiles of design drones that we throw at large-scale projects. That's never been the case in my time so far – more likely it's three people working very hard!'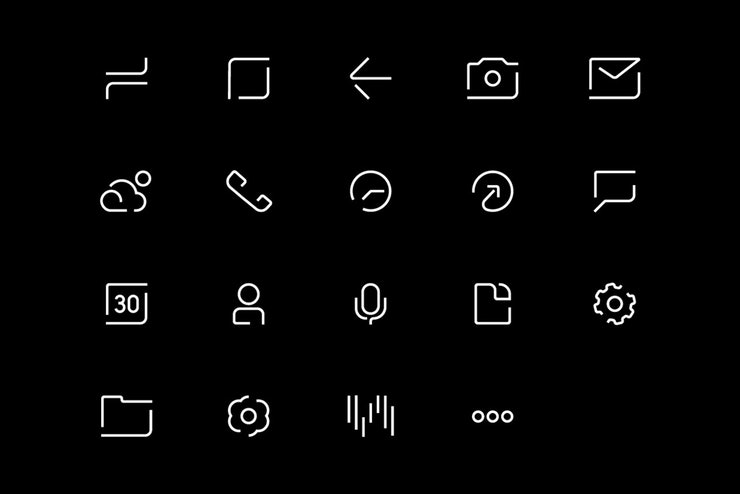 I ask them about what they've been working on recently that has been particularly fun or interesting. 'Our recent work for Samsung definitely comes to mind,' Jack tells me. 'It was just an all-round fantastic project to be part of: a great challenge, wonderful client, a strong collaborative process and I think a very successful outcome. Working with the team at Samsung to help define a new visual language for users all over the world was a real a once in a lifetime opportunity, and the kind of thing I couldn't have imagined being part of a few years ago. I also jump at the chance to work on a good set of icons so this was the perfect project for that!' Ken agrees: 'It was a daunting task to redesign the custom iconographic system throughout their new flagship smartphone—the Samsung S8. Our challenge was heightened by two major factors. One was our drive to better Apple's continual progress with their UI and the second was complementing Samsung's new phone design—a beautifully curved, perfectly symmetrical, singular object.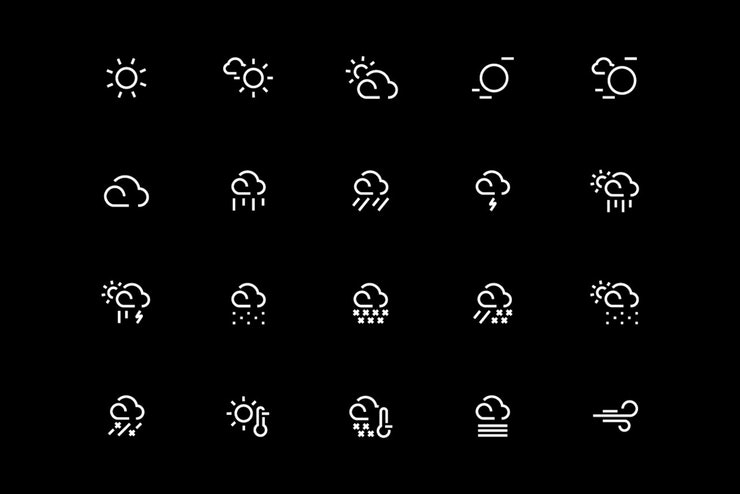 'Every icon was essentially its own identity but naturally needed to fit within a cohesive visual language. Through our discovery and visual strategy process with the team at Samsung, we struck on a simple principle that drove the designs—light and line, how the two interact and the outcome from studying that relationship. A lot of the time our work can be driven by an initial successful design so it was interesting to see work develop this way. It drove the project forward and locked down parameters for the full system. The partnership between Pentagram and Samsung was one of our best experiences; their work ethic and drive to be the best in their field was powerful. It made the project an inspiring one to be a part of.'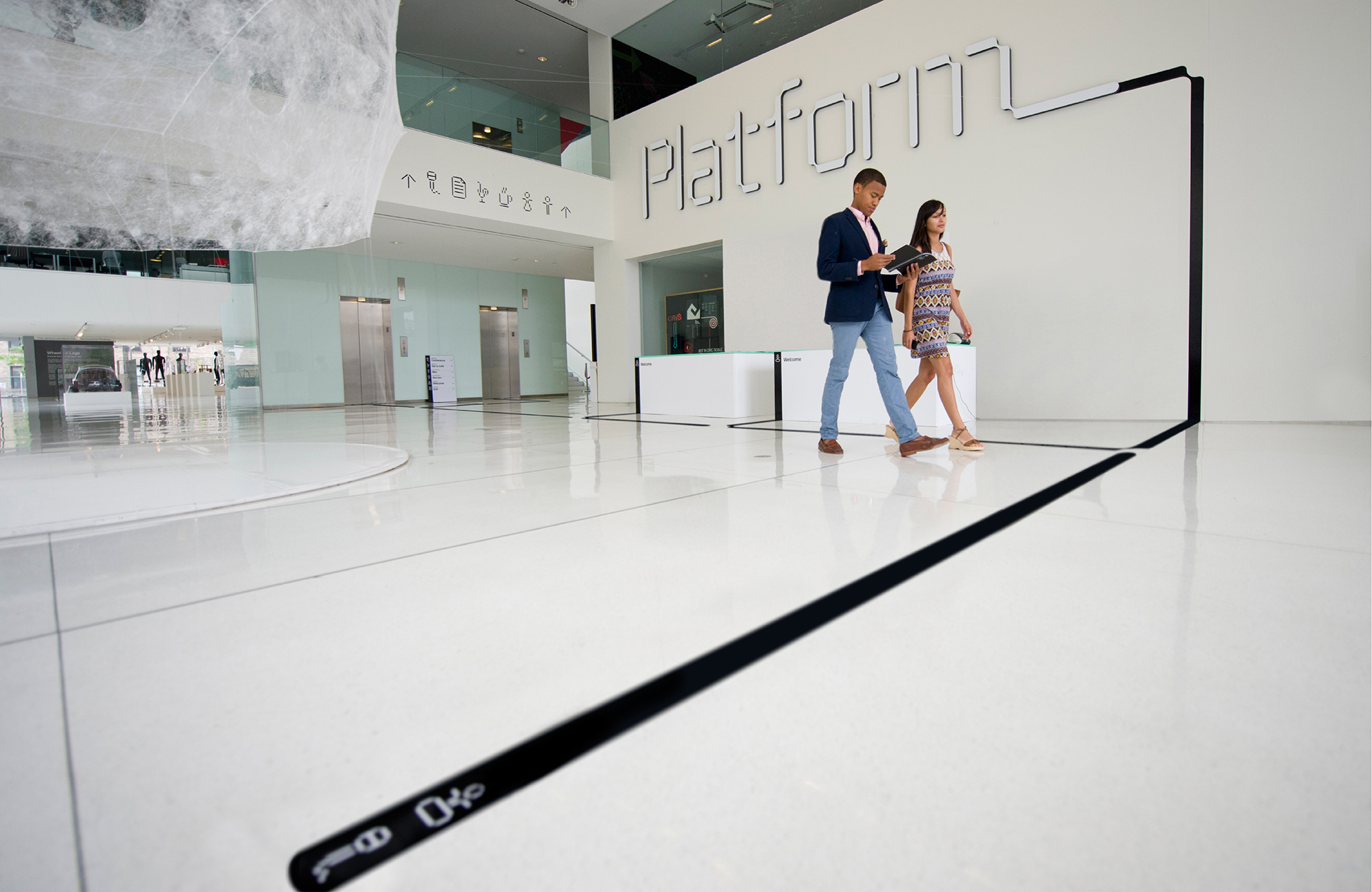 Ken goes on to tell me about Platform Summit, a project he worked on with Eddie from its inception. 'We began when the client was one man fundraising for a movement to grow awareness for and among minorities in the tech industry. They were successful in gaining support from very influential leaders inside and outside the tech industry. From there we worked together for four years developing their online presence, printed collateral, and event graphics ranging from print and temporary wayfinding to onstage visualizations. I grew as a designer in tandem with the growth of the conference and company. It was an incredibly valuable experience for me and one that stemmed from, essentially, a startup. I now have a soft spot for the smaller clients as the potential there can be limitless.'
As for pushing the envelope in terms of technology, Jack is currently working on 'the design and functionality of a voice-controlled interface for an elementary school. The initial brief for this project was to create a kind of digital display for a younger audience to interact with to learn about conserving energy. Eddie and the team really took it a step further and envisioned something that responds to vocal interaction and data with a lot of personality and emotions. It's been a really interesting process – looking at design challenges around conveying complex information in a way that goes beyond sheer approachability to making something friendly and even lovable. It's a very unique project and something we're hoping to share more on soon!'
In addition to the demands of the work pushing both designers to learn more, they both credit Eddie as a real educator and an inspiring person to work with. 'Arriving in the working world I guess I had an impression that a creative director was somewhat removed from the design process, but Eddie is often down in the trenches with us, so to speak,' Jack enthuses. Ken agrees: 'Every day is something new with Eddie. He's an inspiring guy, and he always wants to push his clients and designers out of comfort zones and shoot for the unexpected while addressing the needs of the project itself. These are key factors for keeping work interesting and challenging—I'm fortunate to have found this in a creative director.'
But they also credit the education they got before leaving Ireland, both in shaping them as designers and preparing them for the working world. As Jack says, 'While I think there'll always be a learning curve in making that jump to the professional world, personally it's hard to imagine having a much smoother transition from college. Having the skills and know-how to be of use to your team from the start is such an asset and I know that's something my course placed a large focus on – being industry-ready by graduation.' As for Ken, it was his portfolio course that left a particularly strong mark: 'My design education started with Anette Vella in the Bray Institute of Further Education—one of the toughest and most significant courses I attended. She is a powerhouse of an educator, leading me to getting a place in NCAD, followed by an Erasmus in Willem de Kooning in Rotterdam. I believe the opportunities we have in Ireland set us up to compete in any city in the world. I owe a lot of credit to them... and my Mum (thanks Mum).'
Take a look at submissions made by Ken and Jack for the 100 Archive, including a number or Archive selections each. Read back on part 1 of People with Pentagram to hear Rory Simms and his take on working with Paula Scher.