As exciting as it is to see such a huge amount of project submissions entered to the 100 Archive from around Ireland each year, it's also a testament to the talent and hard work of many Irish designers that a significant amount of work comes from overseas, often from fairly high profile studios. Perhaps no studio is as well-regarded as Pentagram, and while you can rarely attend a major design conference without seeing one of the partners on the bill, it's nevertheless interesting to hear about the studio's inner workings. With that in mind, we had a chat with the three Irish designers working in Pentagram NYC: Ken Deegan and Jack Collins who work as part of Eddie Opara's team, and Rory Simms who was recently appointed as Associate Partner on Team Paula Scher. We'll hear later in the week from Ken and Jack about what's cooking in Team EO, but for now, here's a glimpse into Pentagram from Paula's right-hand man...
For those who might be unfamiliar, Pentagram is the world's largest independently-owned design studio. It is run completely by designers, no CEOs or CCOs. It's a partnership of 20 (at the time of writing) designers, each with their own team, own clients, and own projects, and all working independently of each other, but under the same name - Pentagram. There is occasionally collaboration between teams, but for the most part, it's like 20 small design studios each with their own niche but that come together to form a larger whole. 'Much like The Wu-Tang Clan!', explains Rory.
He goes on, 'These 20 teams are spread internationally: 8 in New York, 1 in Austin, 1 in Berlin, and 12 in London. New partners join periodically, always from the outside and never (well, rarely) from within. A candidate for the partnership is often a practitioner who is already running a successful independent studio. Upon joining, a new partner would bring their staff, their clients and their unique skillset to Pentagram. This means that Pentagram is always expanding its client base, and broadening the range of services it can provide.'
Rory has been at Pentagram for almost four years now, having moved to New York after graduating from Visual Communication at IADT, Dun Laoghaire, and he's been on 'Team Paula' from day one. 'It's rare for designers to move from one team to another, although occasionally it happens. The reason for this is that that each team is completely different. Although we are in the same building, each team has its own approach to design, its own style, structure, projects, clients and often their own area of expertise. Moving to another team would mean adapting to all of these factors. While it may not be as drastically different as changing jobs to a different design studio (you'd still be going to the same building every day), in many ways it is comparable.'
Arguably, if your first role in Pentagram is on the team of a design legend such as Paula Scher, who would want to change teams anyway? 'To begin your career working for Paula is to be thrown in the deep end (in a good way). As an intern and as a junior designer, you are given every opportunity to excel and I think there is a sink or swim ultimatum, as the work takes total dedication.' In terms of her approach, Rory thinks Paula approaches design like an artist, relying heavily on intuition. 'More often then not, she has an immediate sense of how a given piece of design should feel. As a designer working for her, you have to collaborate closely to interpret this sensibility. During the time I've spent working for her, I think I've been visually trained to see design as she sees it, which is invaluable.' On the opposite end of the scale from the artistry and intuition of Paula's approach as a designer, Rory also reckons she is a master of the 'dark arts of corporate politics and client interaction'. 'Paula is among the more adept at navigating that labyrinth, and has been a generous guide to me,' he says.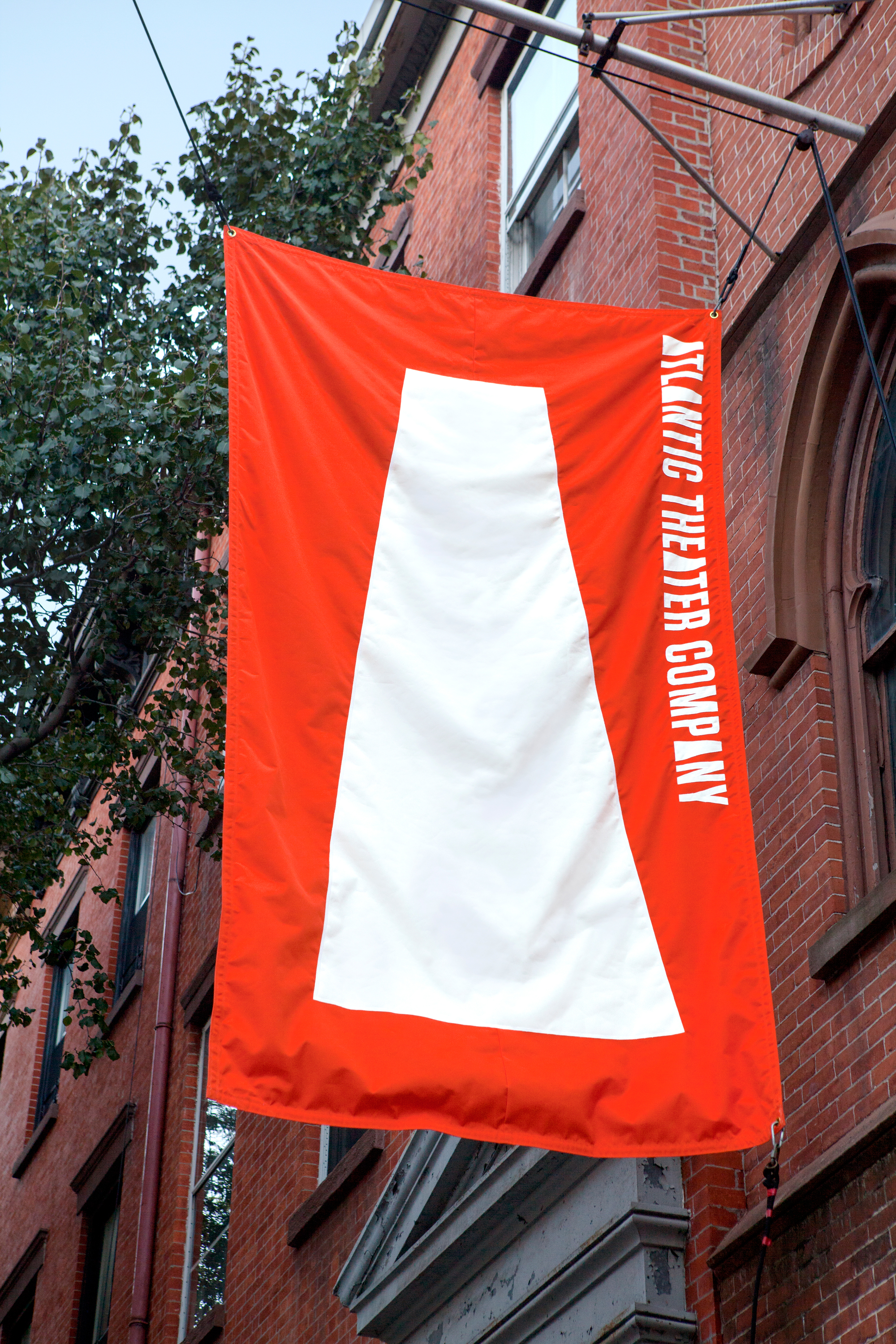 Recent work Rory is particularly proud of includes the identity and signage for Quad Cinema and the rebrand for the Atlantic Theater, two cultural institutions located in New York's west village, and the latter included in the 2015 Archive selection. Regarding the Atlantic, the project meant giving the theatre, an off-Broadway instititution founded in 1985 by David Mamet, a new identity which would not only work for the theatre itself, but would act as a thread that would link all the theatre's productions together too. 'Before the rebrand each production had its own aesthetic. The design of posters and flyers differed drastically from show to show. Although this approach had good reason as no two productions should look the same, it meant the fact that these productions were Atlantic Theater productions was lost.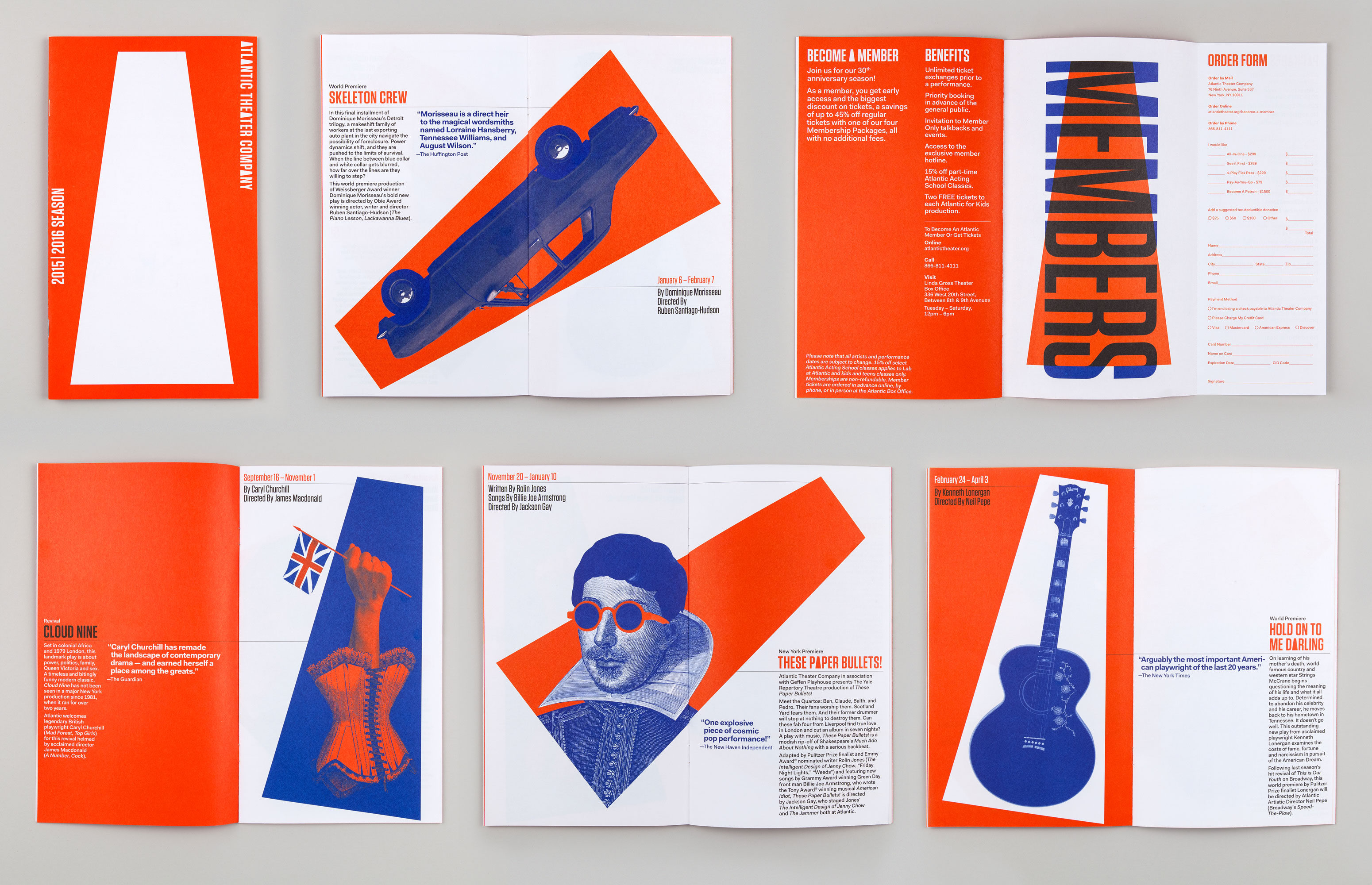 'Our solution was to give the institution and identity that could be used in conjunction with each production. A common denominator – a minimal logo, a silhouette of the letter A, that could be used at different sizes, angels, in different colors, and could house imagery and typography – that meant it was easily recognised as part of Atlantic Theater, but with flexibility that allowed each production to live independently from the rest. We also used color to differentiate seasons. In 2016 the color palette reshuffled, with a dominant black (as opposed to the bright red/orange of the 2015 season). In 2017, we were hired again to create this years season brochure. Which we distinguished from previous years by swapping all colors in favor of bright neons - the theatre's red and white became a never-mind-the-bollox combo of hot pink and yellow.'
As for the Quad, 'Opened in 1972, The Quad was the first multiplex in New York. It played a lot of arthouse cinema, b movies and foreign films and its diversion from mainstream cinema popularised it among New York's artistic types (Andy Warhol was a loyal patron). Over the years it fell into disrepair, until 2014 when it was purchased by Cohen Media Group and completely renovated.
'We were hired from the very beginning of the renovation and worked all the way up until opening day designing just about everything: custom typeface, complete signage programme, 20ft awning, custom iconography, and 32 screen digital installation. We collaborated with Phillippe Apeloig, Seymour Chwast, Javier Mariscal, and Christoph Neiman to create pre-show animations. We designed bespoke ceiling fixtures; a giant letter Q, U, A, and D - one in each of the four theaters. There was merchandise, a custom mosaic floor tile, the list goes on...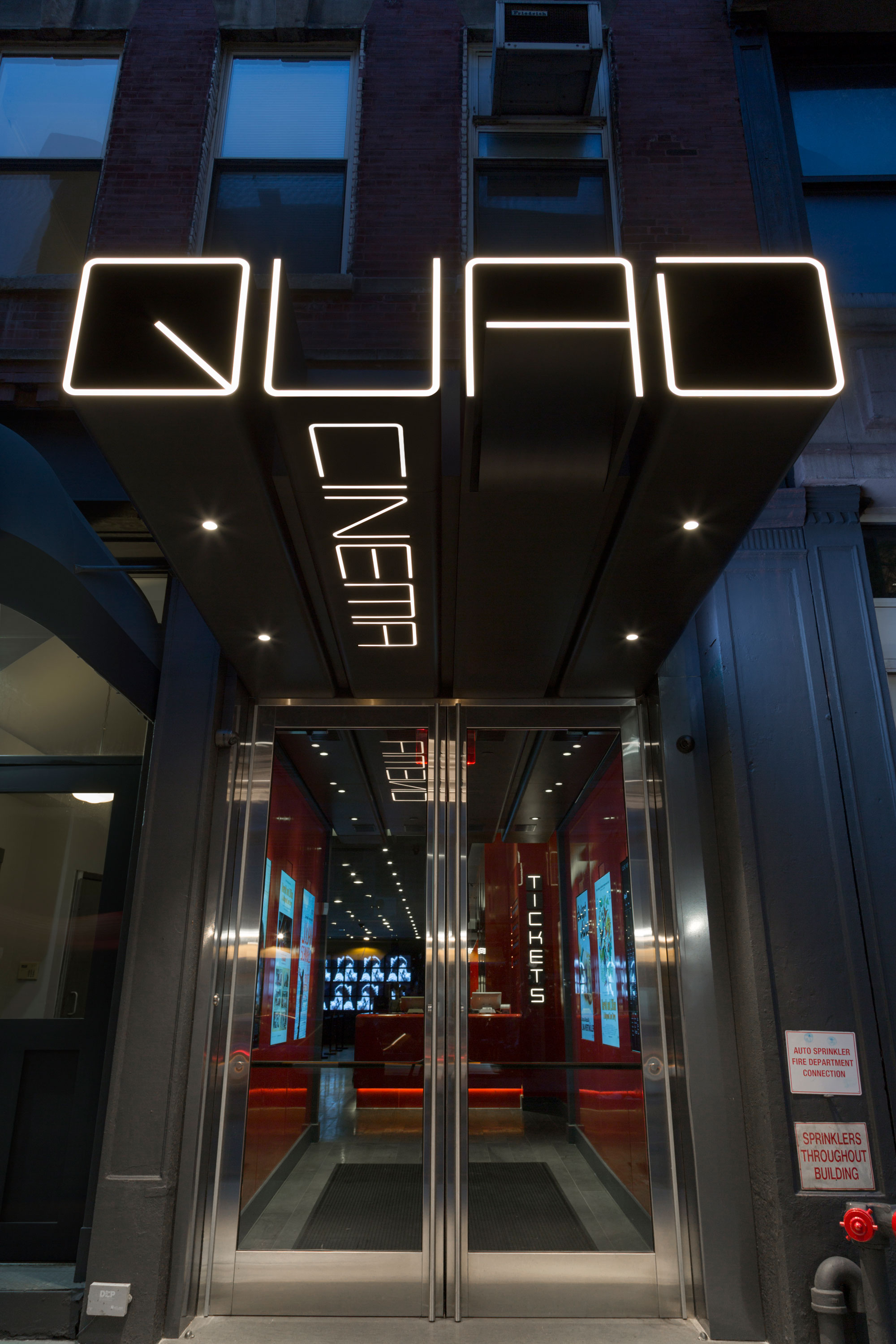 'The identity was really simple. Based on the simple name of Quad - a four letter word that means four - we made a typeface based on perfect squares and everything else followed suit. The challenges of this project were all in the execution. The identity and the concepts for signage were approved by the client almost immediately. But the co-ordination between between fabricators, vendors, construction management, the client, and the city of New York was a steep learning curve for me. The project really taught me how to think about graphic design in three dimensions, and how graphic design and architecture can come together to enhance a space.'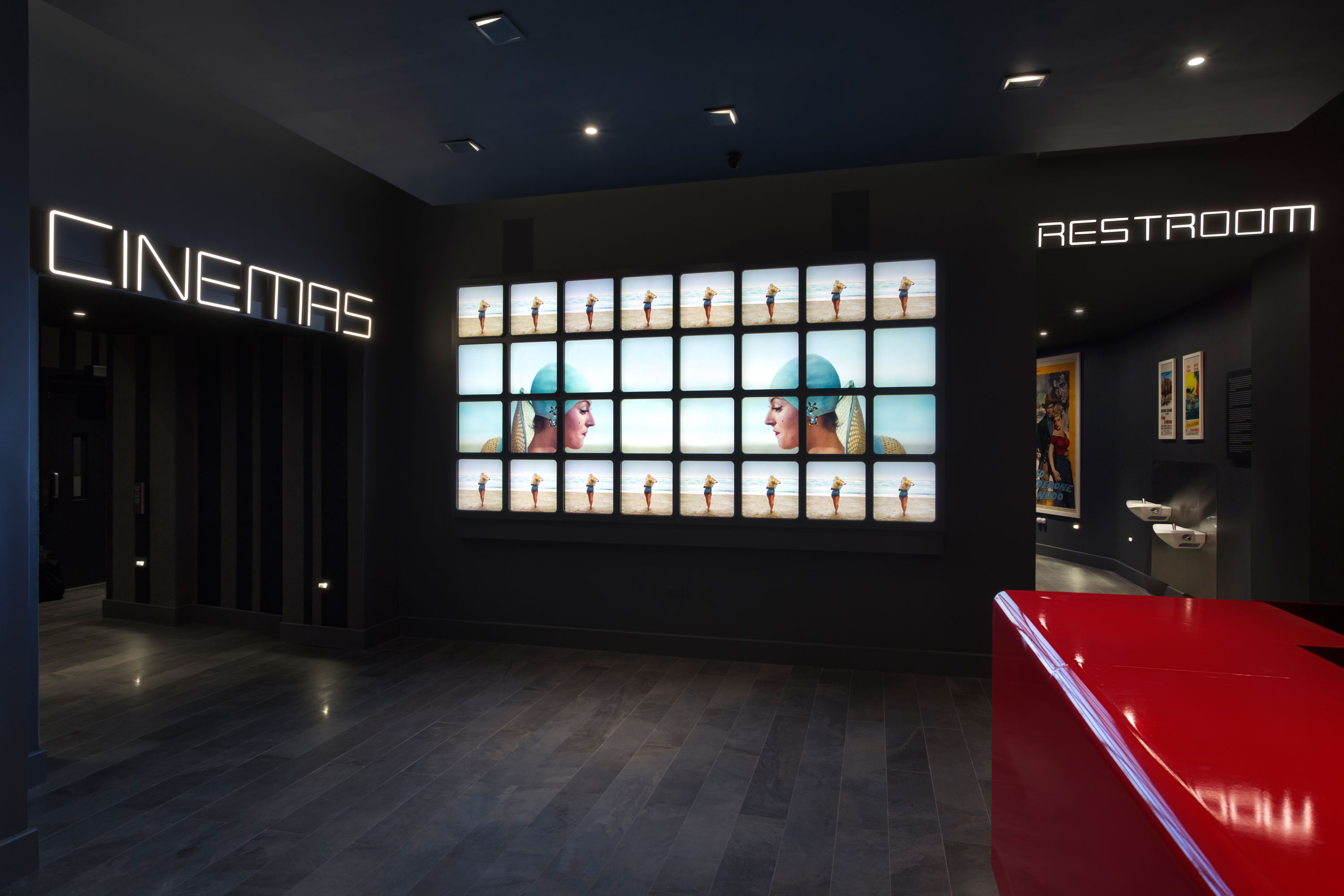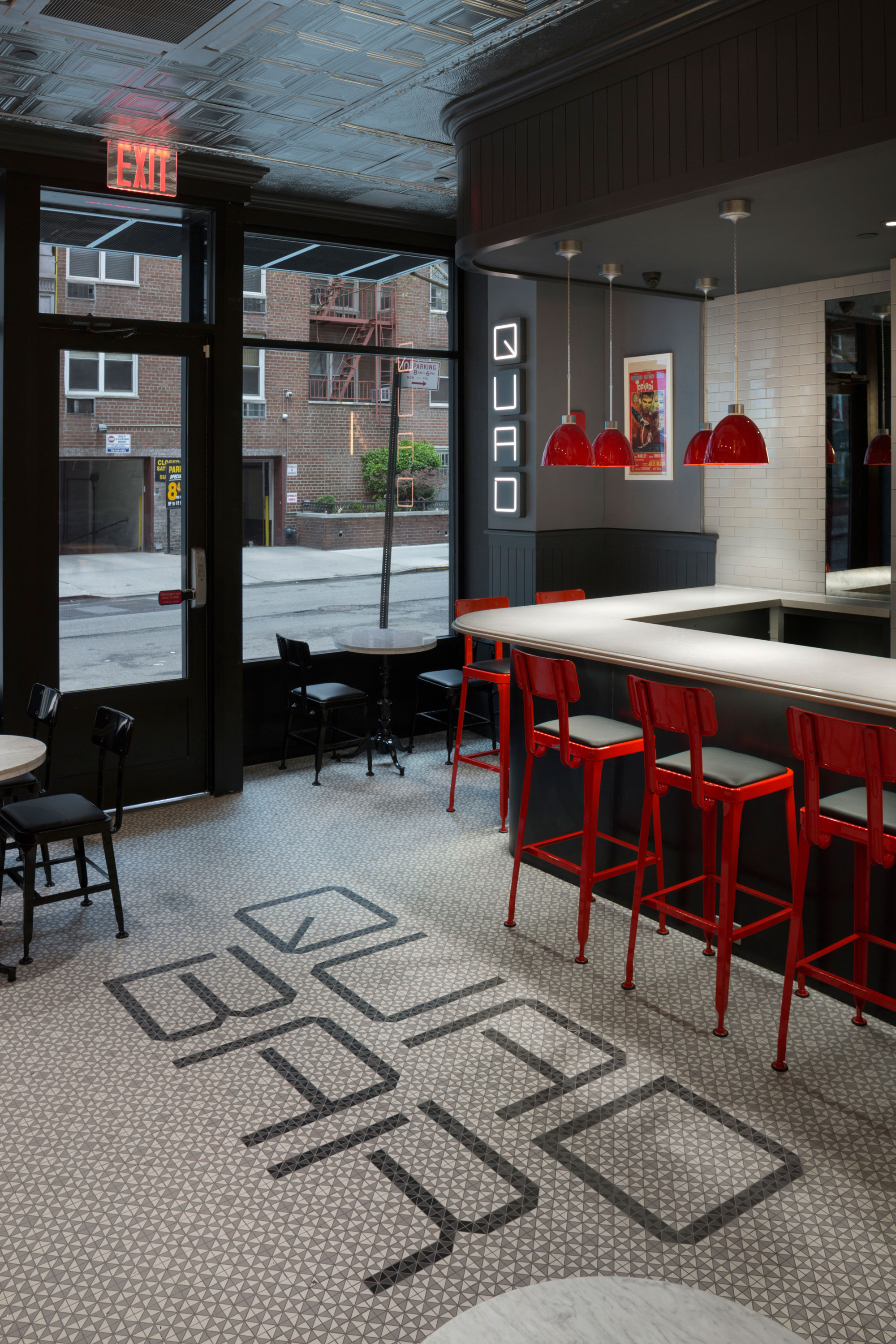 There are clearly challenges involved in working in a next context, from the practicalities of working within constraints that may be different from those here in Ireland to having to quickly gain a sensitivity to previously unknown cultural touchstones. 'Of course there are everyday practical differences that you have to adapt to, like working in inches and fractions as opposed to mm (something I've come to terms with, but will never truly concede to), and reprogramming yourself to MMDDYY instead of DDMMYY. There are also bigger practical challenges like visa applications which are costly and stressful yet unavoidable. But I feel that New York is well equipped for Irish designers as opposed to vice-versa. The design community in New York is hugely international. For example, the designers on my team are: American (1), Irish (1, me), Canadian (1), Korean (1), Chinese (1). In the last four years, we've had designers from Indonesia, Japan, Sweden, Siberia, and Germany. I like that I contribute to the multicultural landscape of designers based in New York, but the real benefit to me is that I get to absorb all of the cultural nuance, and influence of my international co-workers and peers. And above all, New York has a history of Irish immigration and influence, so I think Irish people are particularly lucky in that respect.'
Hopefully Rory continues to both absorb and influence in Pentagram NYC, creating more great work and soaking up all the city has to offer at the same time. Check out his submissions to the 100 Archive, including a number of Archive selections, and stay tuned to hear about working with Eddie Opara from Ken Deegan and Jack Collins later this week.