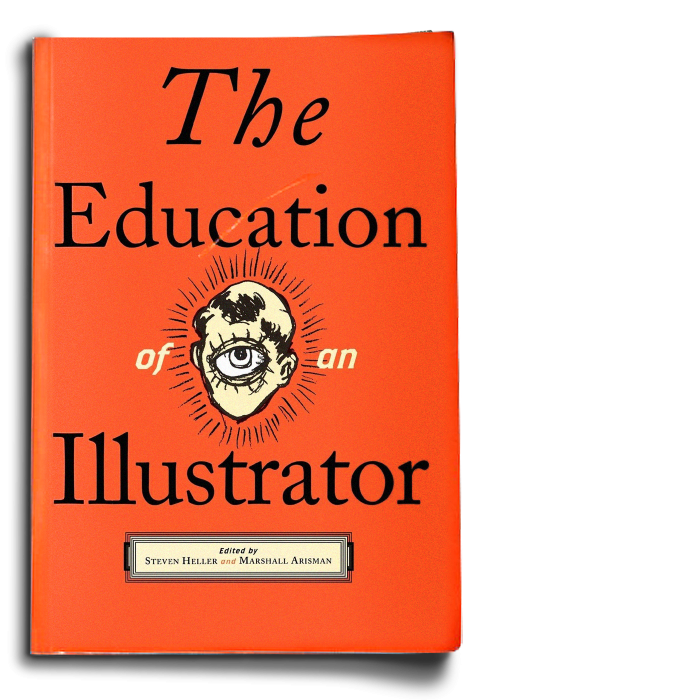 The Education of an Illustrator Edited by Steven Heller and Marshall Arisman.
I discovered this book while living in London. I'd moved to London with the aim of pursuing a career as an illustrator. I'd had some turns with editorial illustration and was slowly building my portfolio.The book summed up all the things that I was learning while getting commercial Illustration work and all the things that I wished I'd been taught in college. The book opened me up to the possibilities and power of illustration as well as giving practical advice on the processes involved. I ranted and raved about it for a long time after I'd read it and leant it out to anyone I could.
The book is formed through a series of interviews, conversations and essays by practicing illustrators as well as number of exercises. Looking back now many of the essays seem a little dated. There is a large proportion of the book which is concerned with the increased presence of stock illustration, it's impact on the commissioning of new work and the decline of the field of illustration. All topics that were very present at the time the book was published. Several of the essays by Heller and Milton Glaser (amongst others), spoke of the broader context of illustration and the changing role of the illustrator. Glaser spoke about a holistic approach to design and illustration and the need for illustrator to understand where they fit within the bigger picture of design. Illustrators should know and understand about typography just as equally as designers should be able to draw.
These view points, though I don't know how conscious I was of them at the time, ultimately led to move away from working purely as an Illustrator. I wanted to create images and tell stories, but didn't want to be always working under an imposed vision. I wanted to create the bigger picture. I also was interested in typography and photography in a way that focusing on pure illustration felt too narrow, and something that I could only do by rejecting my other interests. I believe now that having worked as an illustrator puts me in a better position to understand commissioning and art direction and see things from the other side of the fence, in a way that I wouldn't had I not made that journey.