We took a trip to Cork to visit Chapter. and sit down with the studio's founder and creative director Deirdre Corcoran. We spoke about her career path, setting up her studio and how she works in partnership with business owners to shape what they do through design and beyond. Watch the video clip or read the full interview below...
Do you remember when you first became interested in design?
I actually do. Well, maybe it was more when my family realised I was interested in design. I would have been about 10 and we went on a school tour to Saint Fin Barre's Cathedral, a Protestant cathedral that my mum grew up around the corner from but had never actually been inside. I came home and I was just so energised by it, talking about the gargoyles and all the history and the design features and so then, that Sunday, we went there as a family. That was their first inkling that I was into design. But I was into everything creative as a child, I think it was always there.
Tell us about where and when you graduated.
I think with the pressure of the Leaving Cert I didn't really want to go to college. That's something I feel really strongly about actually, that in school art and design aren't seen as a talent. I went to a really academic school where we had no Leaving Cert art teacher for about three months, and when I sat the exam there were artists on the paper that I've never even heard of. I think we were really unprepared, but I very luckily fell into Design for Print in CIT and I knew from the day I started that I absolutely loved that course, I was just so happy there. It was a very practical, hands-on course as well as creative and that suited me.
What did you do immediately afterwards, how would you describe the design landscape at that point?
I suppose when I was coming out of college then in 2000 it was a case of 'just get a job'. There were some really cool agencies in Cork at the time I remember, but I got a job in the Irish Examiner. And that would have been seen as a very good job to get at the time, from my parents' point of view. People would have said, 'bring your coffin!', as it was seen as a job for life.
I really loved it, I loved print: I ended up making plates in there when they were really under pressure and I really enjoyed that part, and I loved checking off the colour on the press. There was a lot of high-pressure design, deadlines continuously throughout the day, which hones your skills. You've got to get really quick and very decisive and I think that really helped me develop. I spent four years there but I was headhunted by the Irish Independent to set up a department for them in Cork, and I think that was lucky, because I think it would have been easy to stay. There was a salary scale, I was quite friendly with a lot of people in there and it was a lovely place to work, but I think it was really good to move on. So I set up a department from scratch then myself, but I realised that that doesn't really work: you're not allowed to be sick, you have to be there all the time, so quickly I moved on. So I moved to Dublin.
For me, my career didn't go the classic agency route, because I went from newspapers to magazines. I went into the RTE Guide, working on all their supplements, paired with one editor. We would have three weeks to turn around a magazine on fashion trends, for example, so it was a really exciting job and we had a lot of scope to do what we wanted to do. But I never really got into the scene in Dublin because I was working as a designer in isolation.
As most people from Cork do, I came home and I started in an agency called Huguenot and that was my first agency role. I didn't see the talents that I was bringing from all the editorial work: I just brought a different approach to things because I wasn't purely agency trained. I worked on the Musgraves/Supervalu account then for five years, leading on all the big campaigns that would role out. It was a really exciting time because that's when Lidl and Aldi were coming into the market, creating major competition. They were a great client to work with, very high pressure, but coming from newspapers and magazines that was ok for me.
When I moved back from Dublin to Cork I was sent straight back to work in Huguenot's Dublin office! So, what I got from the office on Dame Street was an insight into the social network. Where RTE was a great place to work and an interesting place to work, everybody drove there, so there wasn't really a social network. Had I worked in an agency based on Dame Street in the first instance I probably would have stayed in Dublin.
When and why did you set up Chapter?
When I was pregnant with my little boy I just couldn't imagine leaving him, so for the first time ever I decided to go out on my own. I hadn't done any fixers, nixers, nothing… I had no client base. And at the time, around 2011/2012, Huguenot was letting people go so it was a big decision to make. What I found was that all this experience in this really competitive market of Supervalu, Tesco, Lidl, Aldi, Dunnes etc was really applicable to smaller brands. So I started working on really exciting little projects, well, not little, they were huge to the people themselves. I started to find that what I knew was really applicable to them and really helping them, and that made Chapter grow. Still today, it's pretty much all referrals. Do one good job for someone and they recommend you.
It took off pretty quickly, I had imagined I'd be down drinking coffee with my friends and sending the odd job out to print but I ended up working 12,14 hours a day. It's hard to say no to work, that's the problem when you go out on your own, you're afraid to let one client go. And Musgrave's contracted me, and then I picked up one or two other big clients, so I ended up working a lot! Hugh, my son, used to come to meetings in his Maxi Cosi, him in one hand and my laptop in the other.
About two and a half years in it was unsustainable to keep working all those hours so I decided to hire somebody. I found that a massive responsibility and I remember I was offering three and a half days, but she was leaving a full-time job to come and work with me. I debated over it for months because I felt the pressure of taking someone on.
Her very first day was so defining in terms of how Chapter. has developed because she went to show me her work and she was nervous. I could see her hands were shaking, and I decided then and there that nobody's ever going to be nervous to show me their work. I think you learn from all the places you've worked and when you have the honour of being able to set up your own place, you can dictate the culture. It's hugely important to me here that people are relaxed in their ideas and feel free to get things wrong or make mistakes. After being a designer under other people for long enough I understand how people feel working with me, and I don't want them to feel pressure. It's a big thing here, that we mind people's pressure levels.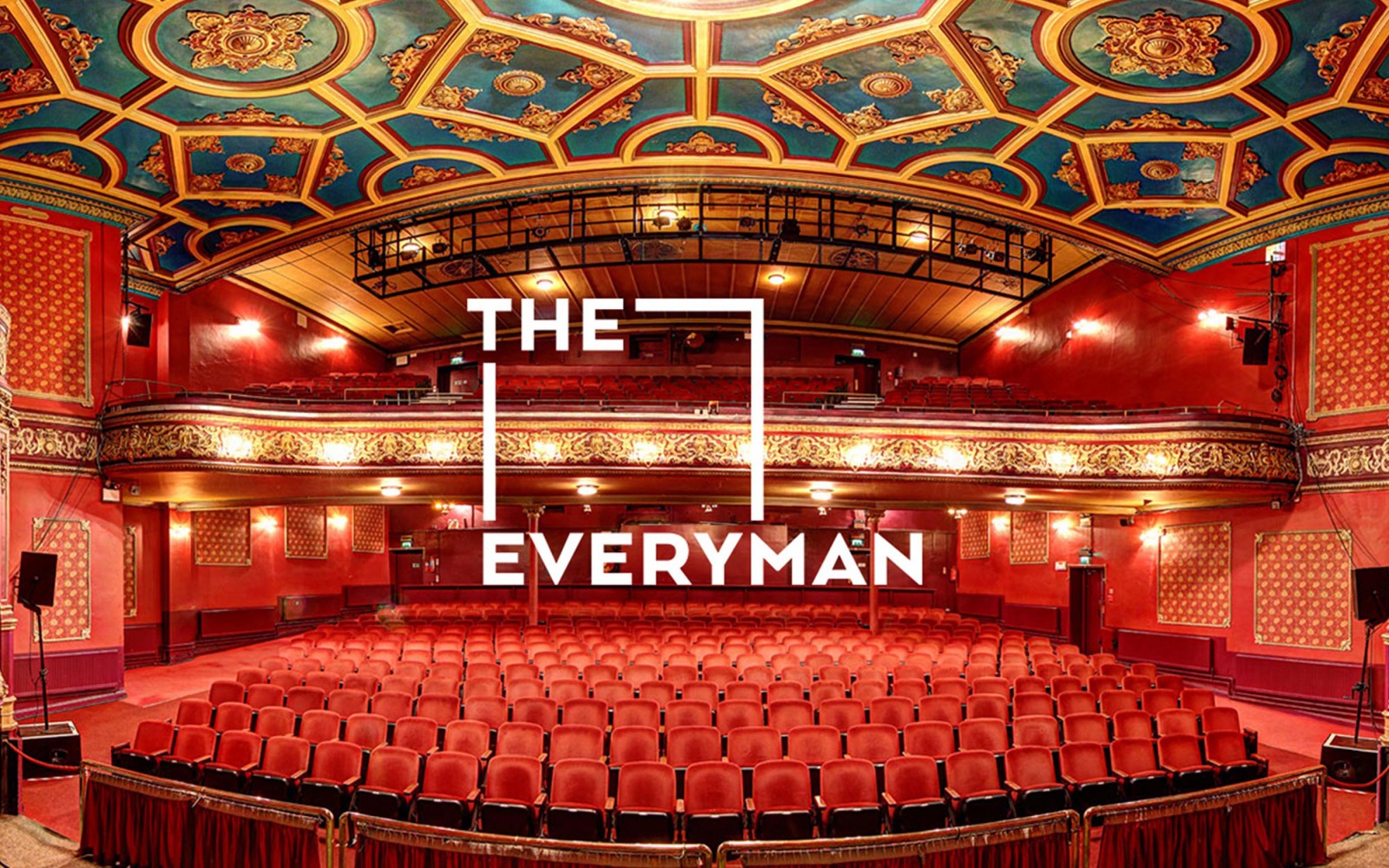 So tell me a little about the kind of projects you work on in general?
We are people's creative partner, including and beyond graphic design. I'm a trained graphic designer, but we now do interior projects, we work on large scale events, we work on websites, video content, a lot of social media content... The way we like to work is that we sit down with the client and really understand their needs as a business, the struggles they're up against and the things that they've got to shout about. We take a look at where their audience is, where their attention is and then when we do get their attention we respect them and give them really good content. That's really important, it's not about putting stuff out there for the sake of it. It's meant rapid change for us in the last two years, skilling up in a lot of areas. But when someone trusts us with one part of their business it works well that they can trust us with a lot of their creative needs.
We are definitely a full-service agency, and I think that can be confusing to some. I've had different advice from people as to whether or not we should offer a more niche service but I'd be bored if we did! I think the team is talented enough so that we can supply a lot of different things for people, but the challenge that brings for us is that if we can deliver branding to a certain level than we have to be able to hit the interiors at that level, we have to be able to hit the video content and so on. There's a really high standard required no matter what we're working on.
A lot of your clients are responding to changing trends or values… could you talk a little about Earth?
Well, Earth is particularly interesting. Carmel, who owns Earth, approached us about three years ago with this idea for a vegan cafe. She had all the trends and data predicting where we are right now and she was bang on in terms of people's attitudes changing towards vegan food. Carmel had had leukaemia and she was gravely, gravely ill, so ill that when she was at home all day she couldn't change the TV channel. So she would just watch food programmes the whole day, and as she sat there recovering she became determined to create this vegan cafe. When someone comes to you like that it's such a responsibility to create their dream.
She knew the name was Earth and she wanted a globe in the logo. We told her we couldn't do that, it would put too many people off, so we talked to her about how we could create the brand in a more interesting way and draw more people in. So that led us to this idea of massive shifts in attitudes. If you think about it, years ago people thought the world was flat. It was a completely held belief until it was proven otherwise and I think eating meat is similar. I mean, I've moved back to being vegetarian, I'm not quite vegan yet, but I do believe that it will be proven in time that we should all be vegan, that change in attitude is coming. So we represented that by bringing this rectangle, this flat world in, creating that tension in the brand that was a bit more interesting than calling it Earth and just putting a globe in.
It's been really successful for her, and it's allowed her to draw way more people in and change their attitudes. She often hosts talks there and she has a really large social following for a cafe and was able to put out the articles that she wants people to read on that. Most people come in and eat the food and don't even realise it's vegan, which is a massive win really, instead of outwardly saying that this is a vegan cafe.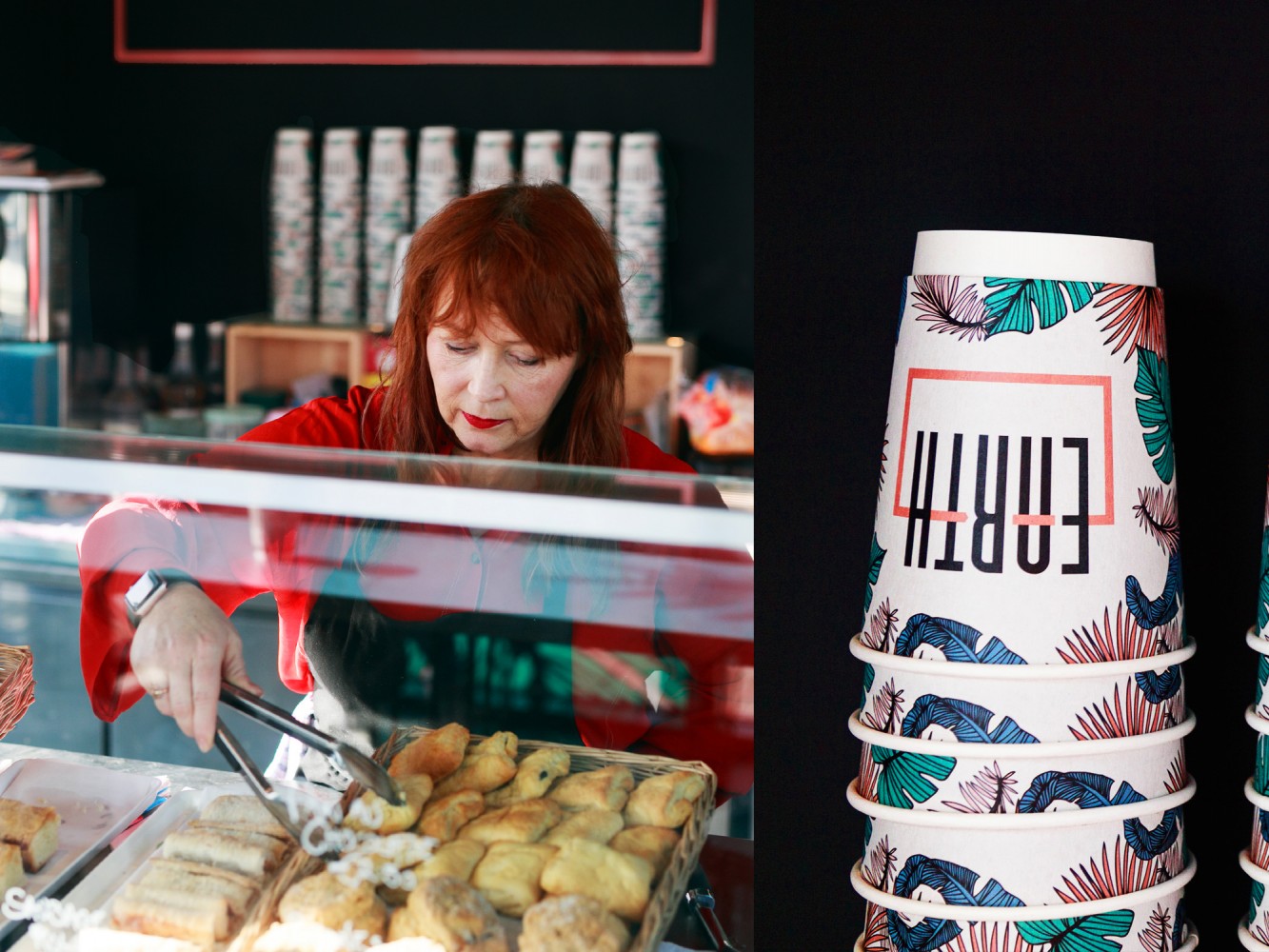 How do you engage with the businesses that you design for?
I guess the first one was iBrow. I used to go to Rachael to get my eyebrows done, I still do, and she was working for somebody else and she was telling me the turnover that she was achieving within this large branch and I told her there is actually a business there and if you are going to do it come and see me and I'll help you create that business. She rang me a few months later to say she was going to do it. I worked with her on the brand and that was our entry point into interiors as well. It's been really successful for her and we've done the rebrand and refit for her now, the more grown-up version.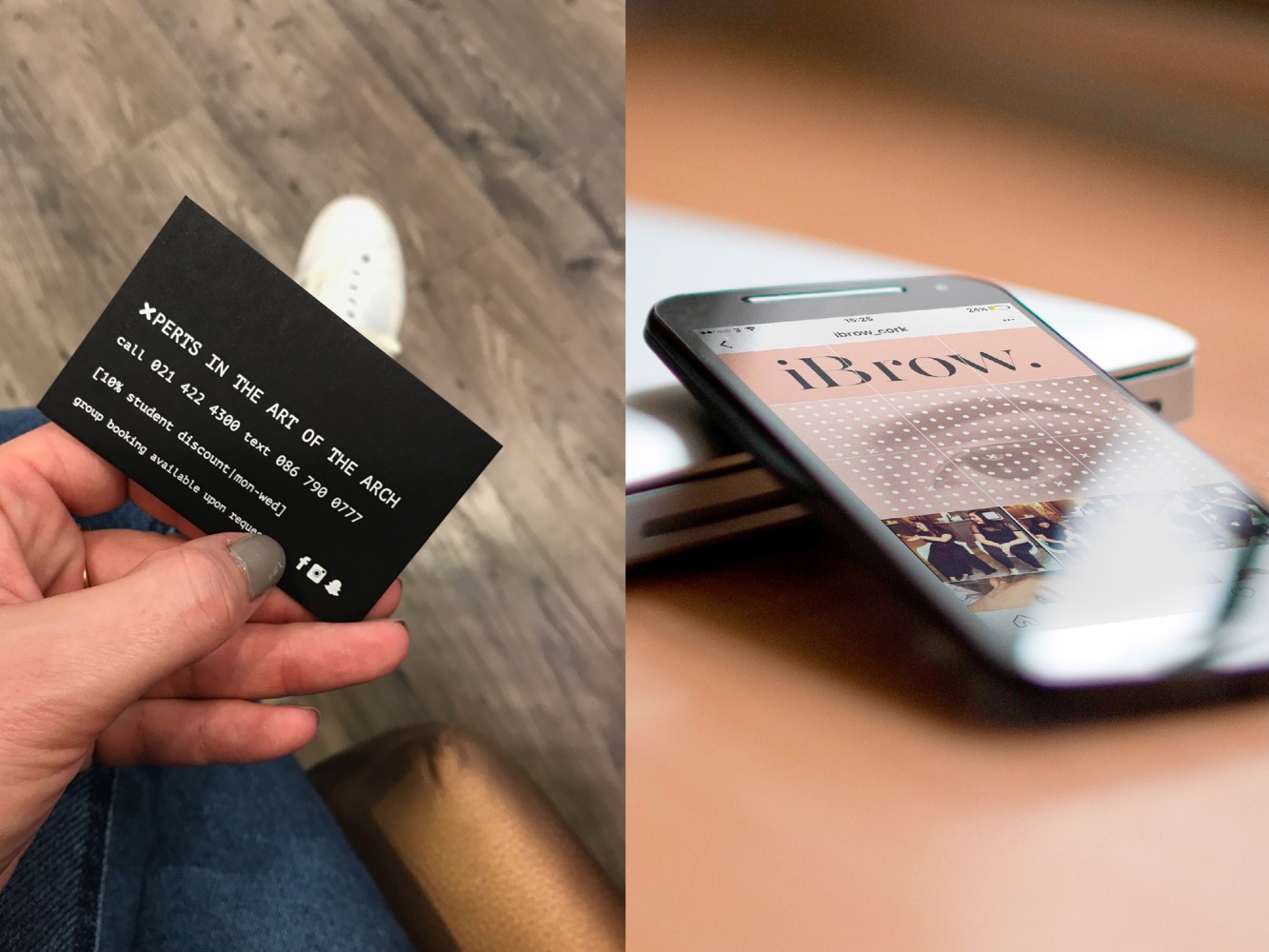 Can you describe differences that you have noticed either in the kind of projects or the way clients interact since you set up the studio?
Well, I think the exciting thing in the last few years is the change in attitudes towards sustainability. We are seeing that more clients are open to that conversation, or that they are coming to us with that in mind, and we try to influence them where we can, in as many decisions as we can. All clients are open to that and recognise that sustainability has to be a consideration. In 2019 you can't not have a discussion around sustainability, it's crazy to set up a business and not include that in your plan… I've really seen change in that!
Change By Degrees would be one of our clients, run by Dr Tara Shine and Madeleine Murray. They'll come in and assess your business as to how sustainable it is and help you make the changes and I just loved working with them. Tara is really respected internationally and she says it's not too late for us to make changes as a society. It's still a positive conversation.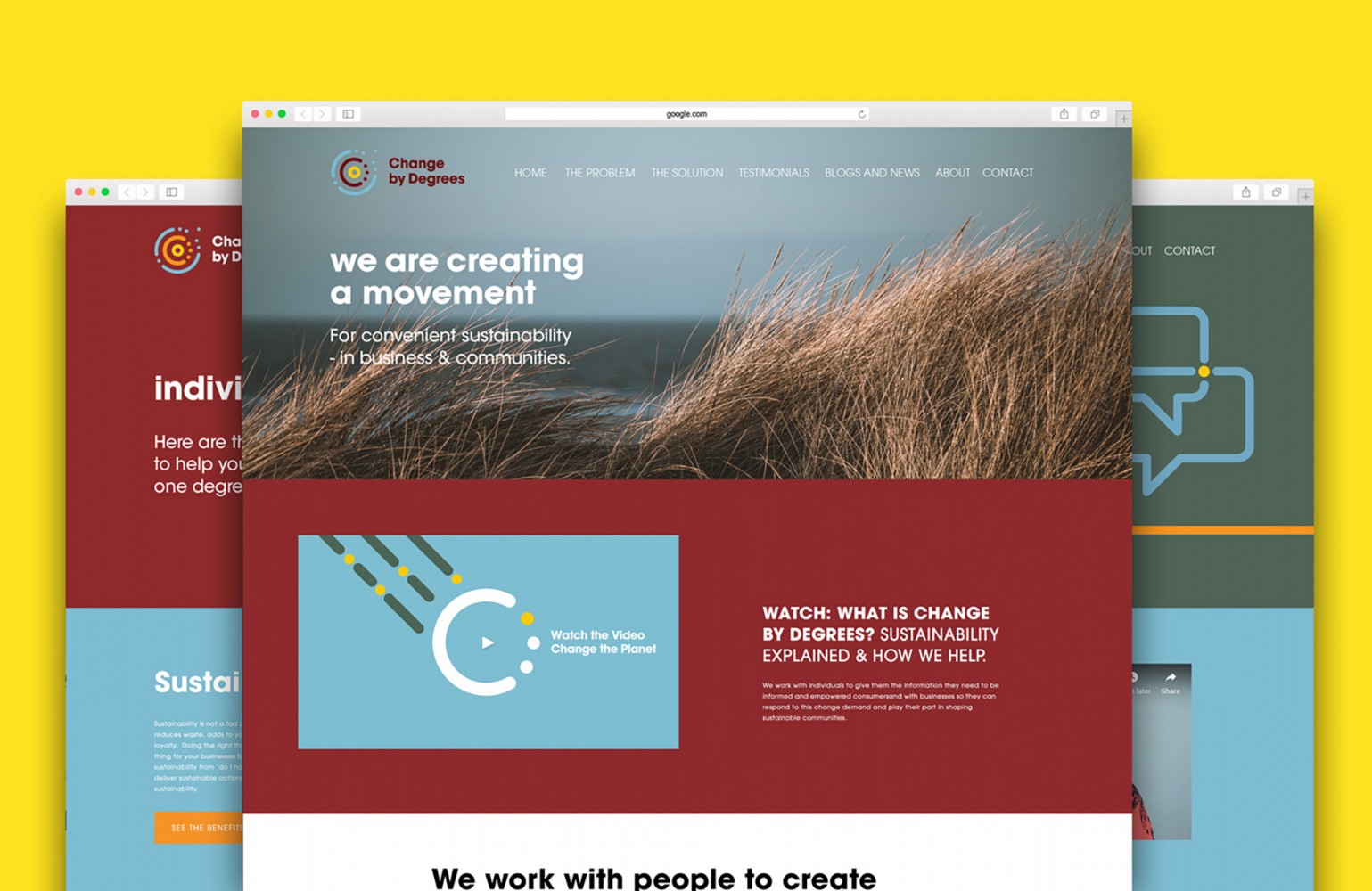 Tell us why you submit to the 100 Archive
I used to row when I was younger and if we were in a race and looked right or left our coach would absolutely kill us. And in some ways that's still my attitude: I encourage us to have our heads in our own lane doing our own race. But then I was in Dublin at an event and somebody from the 100 Archive asked us to submit work and I realised a lack of confidence might have been a factor... My colleague Dee was standing next to me and I realised it was her work too, and my lack of confidence was holding her and the others back, which is the last thing I want. So now we submit our work to push ourselves and to celebrate the team as a whole. We've grown a lot in the last few years and there's incredible talent here so I just want to make sure that I can hero them.
____
This article is part of a research project called Map Irish Design, undertaken by the 100 Archive and funded by the Creative Ireland Programme. The project explores how design affects life, culture, business and society in Ireland, as viewed through the communication design work gathered by the 100 Archive since 2010. See the project at map.100archive.com